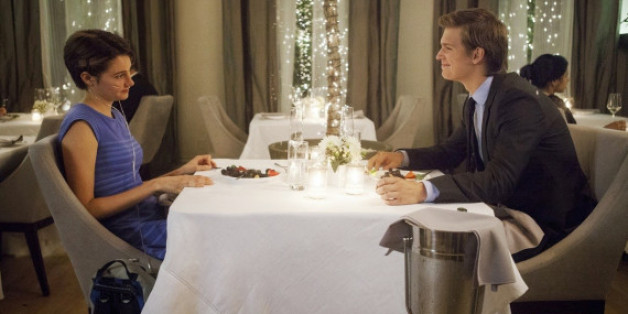 One of the most tender scenes in "The Fault In Our Stars," the weepiest teen romance film of the year, was altered from its original version in John Green's book. During Hazel (Shailene Woodley) and Gus' (Ansel Elgort) trip to Amsterdam, they enjoy a romantic dinner at Oranjee, and in the book they eat outside, overlooking beautiful elm trees on the canal. But, in Josh Boone's film version, the scene was moved inside.
Molly Hughes, production designer for "The Fault In Our Stars," explained that decision in an email to HuffPost Entertainment. She wrote, "I will tell you that we decided to build the Oranjee scene as an interior because when I went to scout Amsterdam for exterior locations (as we only shot exteriors in Amsterdam and none of the interiors, including most of the Anne Frank House) we realized that it would be FREEZING and dark and likely raining in October, which doesn't bode well for a romantic dinner." Instead, they built the interior in Pittsburgh and shot the scene there. "I hope that the fact that Gus and Hazel were surrounded by fantastical trees and candles and lights helped create an equally romantic setting!" she said. "The producers and Josh and I thought long and hard about that decision and hope it lives up the fans expectations!"
A few other scenes and characters in the film were changed from the book -- check out all the "TFIOS" differences over here -- including Hazel and Gus' conversation during the Oranjee scene. In Green's version, Gus tells Hazel he loves her on their plane ride to Amsterdam, but in the film he does so inside the restaurant. Don't worry. You'll cry when reading/watching both, though.
BEFORE YOU GO
PHOTO GALLERY
Shailene Woodley