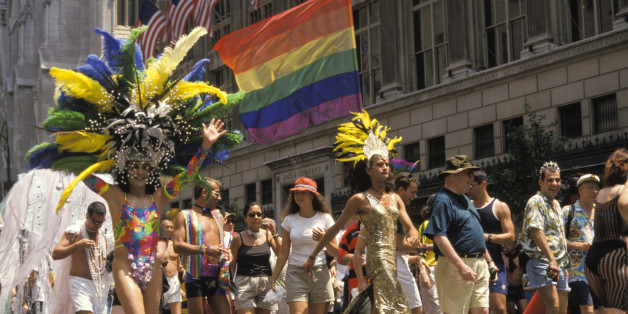 A U.S. military color guard will make history in front of 150,000 people on Saturday, June 7, when members march in the 39th annual Capital Gay Pride parade in Washington, D.C.
The eight-member team will reportedly be the first Armed Forces color guard in American history to march in a gay pride parade. Since the repeal of the military's "Don't Ask, Don't Tell" policy in 2011, pride organizers say Armed Forces color guards have repeatedly declined requests to participate in parades, the Washington Post reports. This year, they were caught off guard by the one group's decision to march.
"We knew we might get turned down, but we asked and they said yes," Bernie Delia, president of the board of directors for Capital Pride told The Washington Post. "I think that's very significant."
A statement on Capital Pride's website reads: "We are very proud that for the first time ever in our country, the Department of Defense will participate in a Pride Parade. We will have an Armed Forces Color Guard present and retire the colors at the 2014 Capital Pride Parade. This is significant step forward for the community as a whole and particularly for those LGBT members of the armed forces."
The historic collaboration between the Armed Forces and the gay community comes just weeks after Pennsylvania became the 19th state to allow same-sex marriage.

BEFORE YOU GO
PHOTO GALLERY
Look Back: 25 Memorable Stories Since The Repeal Of DADT