 On Saturday, June 7, Sandra Bullock was awarded the Decade of Hotness title at Spike TV's Guys' Choice Awards. Surrounded by past co-stars Hugh Grant, Keanu Reeves and Matthew McConaughey, she was handed a gold "Mantlers" trophy, which hopefully clashes with her home decor.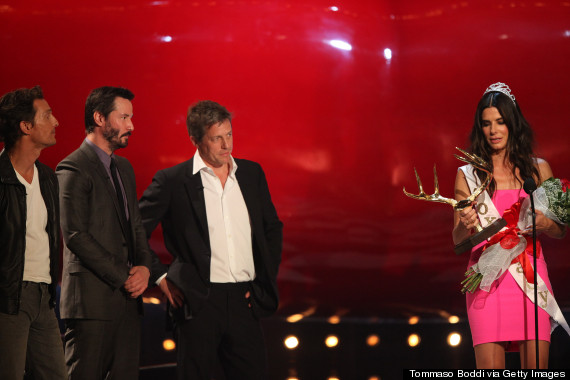 "We've been courting Sandra so long for this award that she was eventually going to say yes or take out a restraining order," Casey Patterson, Executive Vice President of Viacom said in a release.
There's an entire dissertation to be written about what is wrong with "honoring" women for a decade of hotness, but to keep it simple: "Speed" came out in June of 1994, so Bullock has been hot for more than just that one decade. Also, let's not award people for hotness.
This year Rihanna was also recognized by Spike TV with the more ephemeral title of "Most Desirable Woman." Previous talented and successful females that have been given "Mantlers" for ten years of being good looking include Jennifer Aniston (2011), Charlize Theron (2010), Halle Berry (2009) and Cameron Diaz (2008).
BEFORE YOU GO
PHOTO GALLERY
Celebrity News & Photos