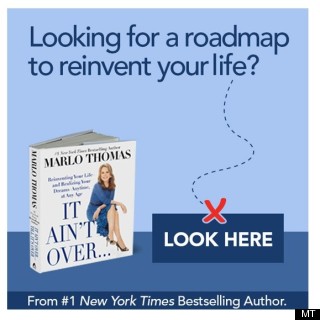 "One of the reasons I started my website is that I wanted a place for women to come together and dream. We women need to know that we don't have to hang on to an old dream that has stopped nurturing us—that there is always time to start a new dream. This week's story, an excerpt from my new book "It Ain't Over Till It's Over," is Californian Judi Henderson-Townsend, a wily entrepreneur who saw an idea for a business in the most unexpected place, and it has now earned her nearly a million dollars!"—Marlo, MarloThomas.com
Hang out with a roomful of dummies, and you might just come up with a brilliant idea.
For Judi Henderson-Townsend, that epiphany came in 2001, when she was trying to locate a female mannequin to mosaic and display in her back garden as a symbol of fertility and Mother Earth.
"I know that sounds pretty California woo-woo," says Judi, "but I loved the idea."
An ad on Craigslist led Judi to an industrial neighborhood in San Francisco and a gritty warehouse filled with dozens upon dozens of mannequins of every size and shape, some of them missing arms, legs, heads, or torsos.
"It was definitely creepy," Judi recalls. The mannequins' owner told Judi she was lucky to have found him when she did, because he was about to close his business and move to New England. That would leave the Bay Area without a place to rent or buy a mannequin.
Standing there surrounded by naked dummies in various states of dismemberment, Judi made the impulsive decision to go for something, well, completely different. "It was a ding-ding-ding moment," she recalls.
Judi started peppering the mannequin man with questions about his business and clientele. Before long, she was asking if he would sell her the entire lot, along with his customer list. Sure, he said. "If I didn't buy them, he was going to try to sell them off one by one," she says. "And those that didn't sell would end up in a landfill."
They agreed on a price of $2,500 ("If he'd said $5,000, I wouldn't have done it"), but Judi had to move quickly, as he was leaving within the week.
PHOTO GALLERY
Judi Henderson-Townsend
At first glance, starting her own business didn't make much sense. After graduating from college, she'd mostly played it safe, climbing various corporate ladders as a sales executive at big companies like Johnson & Johnson and United Airlines, and she now worked for a dotcom start-up. Judi was also haunted by her one and only attempt at entrepreneurship: In her thirties, she had tried to start her own business as an agent for photographers and illustrators. She had failed—miserably—and the experience had damaged her financially while also sapping her self-confidence.
"I worried that history might repeat itself," she says. And mannequins? "If I'd had time to think about it, I probably would have talked myself out of it."
But Judi held out hope that this time she could make her own business work. Within a few hours of her first encounter with the mannequins, she had buy-in from her husband, Jay, and a few days later, all 50 torsos showed up at their front door.
"I was ready," she says. "Whether it's mannequins or widgets, many of the same business principles are at work, like managing cash flow, marketing, finances, and inventory. All of that is important no matter what you're selling."
Choosing the name Mannequin Madness for her new venture, Judi embarked on her "crazy niche" idea. Her first setback came when the man she bought the mannequins from failed to follow through on his promise to send her his client list, which meant she had to generate business from scratch—and in the visual merchandising industry, no less, in which she had no experience.
So Judi started cold-calling—tirelessly. She spent weekends driving around the Bay Area, leaving her card at Macy's, Nordstrom, Sears, and other department store chains. If people came in asking where to acquire a mannequin, she said, send them my way.
Around the same time, Judi built a website for the business. This, too, turned out to be crucial. "I got a call from someone in Canada who had seen the website and was coming to San Francisco for a ski trade show and needed to rent a mannequin. That was a big 'ah-hah' moment for me. I thought my customers would all be local, but now I realized I'd been thinking too small!"
Business began to take off as Judi rented out the mannequins or resold them to smaller stores, dressmakers, and hobbyists. Then, in late 2001, the dot-com she was working for went under.
"That made me do some real soul-searching," she says. So instead of looking for another conventional job, Judi decided to go into the mannequin business full-time.
The national trend toward recycling helped. Unless a mannequin gets reused or recycled, retailers toss them out as they get damaged, or as trends change, which shortens a mannequin's life to as little as two years. The general shape, of course, doesn't change—it is always young, tall, and thin. But one year, heads might be in vogue, while the next, heads come off.
"I couldn't stand that these beautiful mannequins were ending up in landfills," she says.
Within six months, Judi's inventory had ballooned from 50 to 500, after a merchandiser from Sears who had held on to Judi's card called to say the chain was getting rid of all its mannequins. If Judi could haul them away from the dozen or so Sears in northern California, he said, they were hers to keep.
"Jay and I cleared out the entire basement and turned it into a mannequin warehouse," she says. Word spread that Judi had become the go-to gal for mannequins past their prime, and soon more companies—Nike, Nordstrom, Ralph Lauren, and Bloomingdale's—were offering their stock.
The garage grew engorged with mannequins, and there still wasn't enough space. So Judi and Jay pitched tents for the overflow in the backyard. And when the shipment from Nike arrived in coffin-shaped boxes, the neighbors looked on with amusement.
In 2007, Mannequin Madness moved to a 1,300-square-foot warehouse in Oakland. Two years later, Jay was laid off from his job at a nonprofit and joined Judi full-time. Now they sell mannequins, rent mannequins, broker mannequins, repair mannequins, blog about mannequins, and even deliver them. "We're the FTD of mannequins," Judi says with a laugh. Annual revenues for the company are just shy of their goal of $1 million. "Every year, we get closer," she says.
When Judi tells people what she does for a living, she gets her share of raised eyebrows and outright laughter. But she has learned to take it all in stride.
"I couldn't have done this in my twenties," she says. "When I was younger, I needed the validation of a big company. Now I'm happy to talk about my mannequins. I'm here to show that everything is possible."
As for that garden art project, she never did get around to it. She got too busy.
* * *

To find out more about how Judi launched Mannequin Madness -- and to read 59 other inspiring stories -- buy your copy of "It Ain't Over Till It's Over." Click here.
Add Marlo On Facebook:
Follow Marlo on Twitter:
Sign up to receive my email newsletter each week - It will keep you up-to-date on upcoming articles, Mondays with Marlo guests, videos, and more!