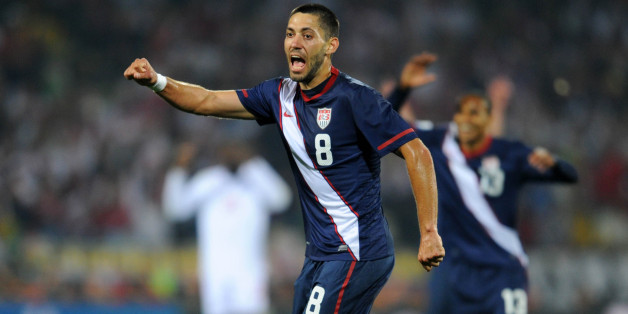 On the verge of his third World Cup with the United States -- and his first as captain of the U.S. men's soccer team -- midfielder Clint Dempsey is arguably the most successful American position player to ever play in Europe. The 31-year-old Texas native has played for both Fulham and Tottenham in the famed English Premier League, and was the first-ever US player to score a hat trick in the EPL. Dempsey, who re-joined Major League Soccer last summer to play for the Seattle Sounders, spoke with The Huffington Post about the pressures of advancing past the "group of death," the unapologetic coaching style of Jurgen Klinsmann and why the World Cup means so much.
This interview has been condensed and edited for clarity.
You now share a city with Seattle Seahawks superstar cornerback Richard Sherman. What is your relationship like with him?
I met him a few times -- a really cool dude. There was this one time, there was like a poker night that we were involved in, so we played a little bit of Texas Hold 'em ... He's a really cool dude, really laid back, chill. So I was happy for him and his success with the Seahawks.
Does Clint Dempsey have a good poker face?
Yeah, I'm okay. I ended up going a little further in the tournament than he did. I wouldn't say I'm that great.
How do you feel? Specifically, how is your injured groin?
I'm feeling good. You know, when I first came back [to the MLS], just the adjustment of playing on turf and the travel took a little out of my body and I picked up two injuries. Going on loan with Fulham and getting my body right, I think you can see that I've hit the ground running this season.
How did playing in the EPL affect your game and confidence?
It brought me peace, because I always wanted to play at the highest level possible, and after playing in the World Cup, there was the opportunity for me to go over there and test myself. The numbers I was able to produce, and being fourth highest in the league in goals ... most of the time in midfield, [meant that] I was happy with what I was able to accomplish.
What was the difference between how the English fans received you at the beginning and then after your success?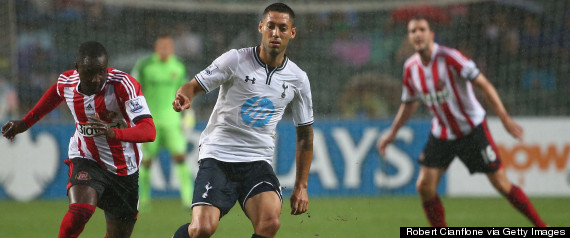 At the beginning, you have to prove yourself. You're nobody until you're somebody, so I had to prove myself to be worth the applause. At the beginning, it was a little bit of a slow start, but then I was able to get into a rhythm and I think the fans were able to embrace me, and I'm grateful to them for that.
Sounder fans are widely regarded as the best in the MLS, but how do they compare to the fan base of EPL teams?
Yeah, for sure. I mean, if you look at the numbers and the attendance that we get for our games -- you know, 25,000-plus for every home game. And so that's definitely comparable to what some of the attendances are in some of the biggest leagues in Europe. What's unique about playing in this market is even if you don't get the best result, after the game we'll walk around and there will still be people clapping and thanking you for your performance. If you don't get the right result in Europe, you're going to be booed off the field. So there's definitely a lot of passion from the fans here.
You filmed a video shoot with "Mad Men" star Jon Hamm. How did that go?
For me it was more about learning how much he knew about the game and the process and everything that was involved, and what we deal with. You never really know how much people pay attention, so that was really cool to see in terms of the questions he asked during an interview that we did. It was pretty cool.
You grew up in Texas, a hotbed for football players. What was your experience playing soccer?
I mean, it was different because you're trying to figure out where you fit in, and for me I think a lot of people questioned -- especially in high school -- what were you doing playing soccer when the most popular sports are American football and basketball and baseball. But at the end of the day you just do what you enjoy doing, and there's a large Hispanic contingent there in Nacogdoches. Those are the people I gravitated toward, because we had something in common. I remember playing in a Hispanic league where on Sundays you go and play, and I think that played a part in a lot of my development, because it would be a kid in high school playing against these older men. It added a little bit more of an edgy side to my game.
Everyone is talking World Cup right now and that brutal "group of death" draw for Team USA. Is the main goal getting out of group play and then just going from there?
Yeah, exactly, I think that's the way you have to approach it. If you don't get out of the group, then you never have a chance. If you look at World Cups in the past, even a lot of top teams, it's not always as easy as it sounds to get out of the group. Once you get out of the group stages, then you have a chance to dream and say, 'Hey, you know, maybe this is possible.' You try to do something special.
How does the pace of play change at the World Cup?
The way it changes is the environment. I think playing in England, because of the weather, it allows for a faster-paced game, but when you're playing for your country and playing down in World Cup qualifying games in places where it is 90 or 100 degrees, it's going to be a lot slower, and you have to do a better job of managing the game in terms of your position. There are other pressures you deal with for your country -- continuing moving the game in the right direction and not being that team that takes a step back. So it's always that pressure to succeed.
In terms of your coach, Jurgen Klinsmann, what will be the pregame atmosphere in the locker room before playing powers like Germany or Portugal?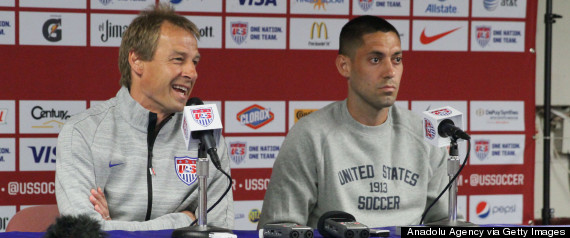 He's fiery, he's energetic, but at the same time he knows when to be calm and try to ease our nerves and let everybody know that we're prepared and confident.
How long does it take to forge that connection with teammates that you haven't played with for a long time?
Well, everybody has to deal with that aspect of things. That's when you work as much as possible to try and get on the same page with everybody. You'll have three sending off games and that's an opportunity to figure out, you know, how the team is looking ... You just make the most of it.
Is there anything you will you do differently in this World Cup than your other two World Cups? You are the team captain now.
No, because the last two times it has been the same. You never know when you will get another opportunity to play in a World Cup, and you have to make the most of that moment. The only thing that changes is each World Cup comes along and you get more experience. There's more pressure on you to perform and to be productive. So those are the slight differences.
Brazil has come under a great deal of fire for the litany of issues surrounding this World Cup. In your opinion, though, is it a good thing for Brazil to serve as host?
Yeah, I think it is, because that is the style I grew up watching and it helped me to fall in love with the game watching the South American style. I'm looking forward to going down there and playing in front of that type of atmosphere and environment and see what that is like.
Email me at jordan.schultz@huffingtonpost.com or ask me questions about anything sports-related at @Schultz_Report and follow me on Instagram @Schultz_Report. Also, be sure to catch my NBC Sports Radio show "Kup and Schultz," which airs Sunday mornings from 9 to 12 EST, right here.