Long before Jake Tapper had his own show on CNN, he wanted to be a cartoonist.
Tapper used to do a political cartoon strip for Roll Call, and even did the cartoons to accompany his Dodo essay about being a cat lover earlier this year. Speaking to Seth Meyers Monday night, Tapper described himself as a "failed cartoonist."
The two took a look at Tapper's old work, and Meyers challenged Tapper to draw him on air.
Tapper said there are some pretty bad caricatures of Meyers out there, including one that looked like a mash-up of Jay Leno and Jon Hamm.
"You're a handsome guy... but if you just look at the individual parts, it's a lot of triangles," he told Meyers. Then in 10 seconds, he banged this out: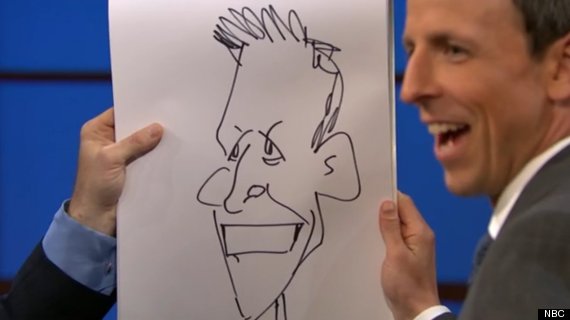 Watch Tapper perform in the hot seat in the clip above (starts at the 31:00 mark).