Roaming a Tara Donovan installation feels like navigating an alien landscape, one where massive dandelions sprout amongst textured cubes and glittering, gloopy stalagmites. Yet look a little closer and you'll notice the materials used aren't the precious organic stuff of another planet, but the everyday stock of an office supply closet. This mixing ground of the banal and the otherworldly, the minor and the majestic, is what makes Donovan's artwork so entrancing.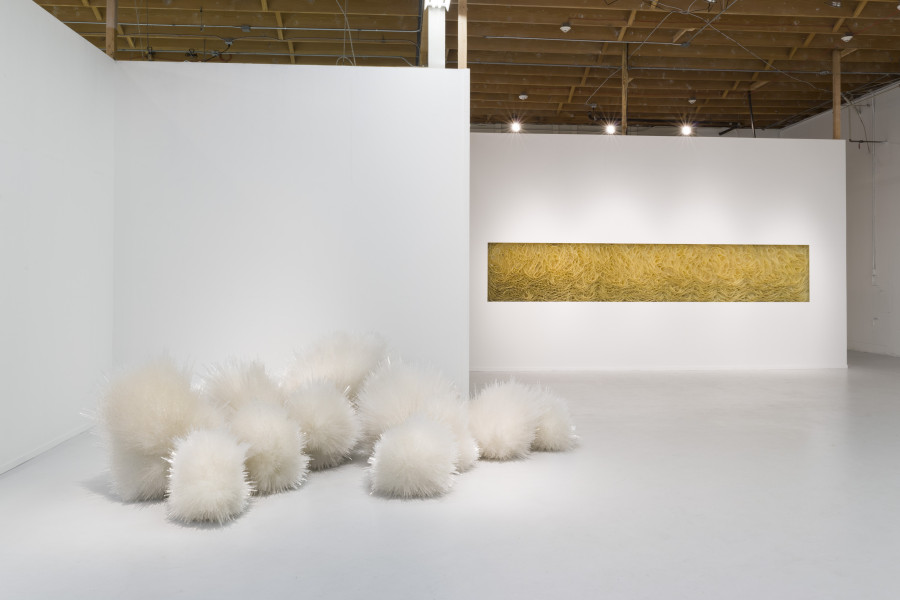 Photo courtesy Johnna Arnold
Donovan, who was born in Flushing, NY in 1969, is known for transforming simple materials into transcendent forms through careful and ceaseless repetition. Buttons, toothpicks, pencils and straws serve as Donovan's unlikely muses, each unpretentious tool containing within it the potential for perceptual wonders. Through a simple yet labor-intensive process, the artist reveals the textural complexity lurking in these household goods. By embracing the inherent beauty of a toothpick's sharp and slender shape or a button's pearly glow, Donovan savors the innate properties of her manufactured materials, thus complicating the relationship between the organic and inorganic.
A survey of Donovan's work from 2000 to the present is on view at a pop-up space at Pace Gallery in Menlo Park, California. The exhibition, part classic Minimalism and part Willy Wonka's world of pure imagination, walks the oh-so beautiful line between formality and playfulness. "The work has the pragmatic rigor of that earlier American period," Nicholas Baume, the Institute of Contemporary Art's chief curator, told The New York Times. "But it brings it into our own period by suggesting digital, cellular, emergent networks. It seems to speak to the systems that are shaping our lives."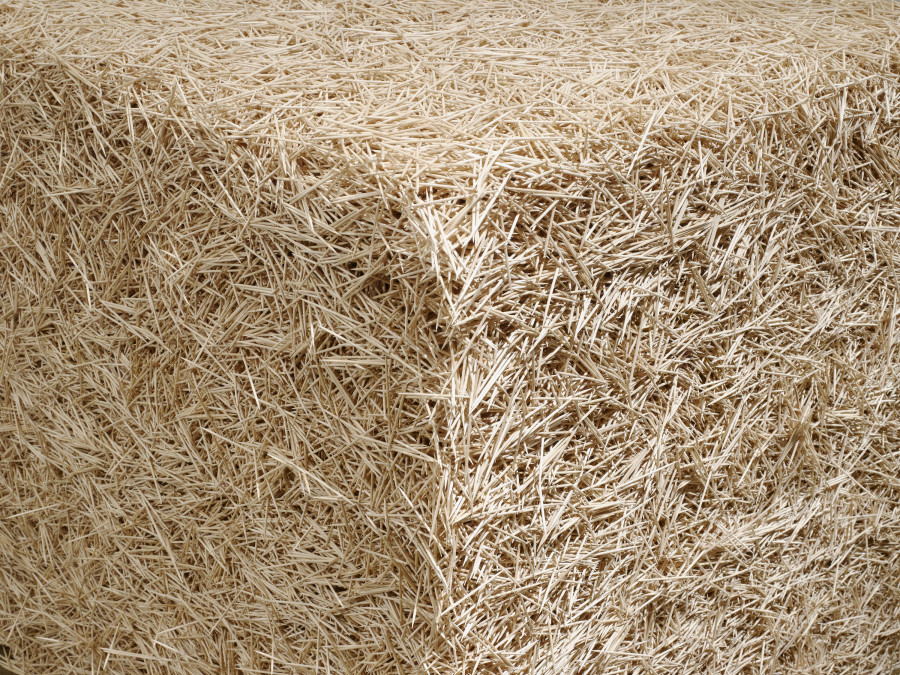 Detail of Untitled (Toothpicks), 2000, wooden toothpicks, 36" x 36" x 36" (91.4 cm x 91.4 cm x 91.4 cm), Photo courtesy Pace Gallery
Echoes of Eva Hesse's materiality, Sol Lewitt's obsessive iterations and James Turrell's passion for perception are made manifest in Donovan's oeuvre. Yet the seamless combination of all of these modes, accomplished with such unclouded simplicity, remains unparalleled. This is part of what earned Donovan a coveted MacArthur "Genius Grant" in 2008.
Donovan's current exhibition features her early sculptures in which 36-inch geometric cubes are formed from pins, toothpicks and glass without the use of adhesive. The show also features "Haze," a massive white flatland comprised of several million drinking straws that seems to stretch into infinity. And then there's "Bluffs," a series of glimmering gravel towers that look as though they were excavated from an enchanted cave, though really they're made from glue and buttons.
In Donovan's world, the humblest of materials cluster together to form unnatural wonders that seemed to have blossomed of their own supernatural volition. But at the core of the artist's process lives a simple mantra. "So much about the art-making process is about paying attention," Donovan explains. "It's about looking and noticing things."
Tara Donovan's "Untitled" runs until June 30, 2014 at Pace Gallery in Menlo Park, California. Donovan's large scale sculptures are concurrently on view at Pace in Chelsea until June 28.
BEFORE YOU GO
PHOTO GALLERY
10 Must-Sees At The Louvre