In case you live under a rock, it's Father's Day on Sunday -- here are the last minute gift ideas you're looking for. We'd amend the list to include a bacon of the month club. This is THE MORNING EMAIL for Tuesday, June 10, 2014.
The Scuttlebutt
TOP STORIES
VA HAD STOPPED VISITS TO TROUBLED HOSPITALS
"The Department of Veterans Affairs stopped sending teams of turnaround experts to underperforming hospitals at the same time a growing number of VA facilities showed consistently high death and complication rates, internal agency records and interviews reveal." Almost 60,000 Veterans have faced delays in recieving their VA health care. A top VA official apologized yesterday for an underlying "integrity issue" at the embattled bureaucratic institution. [WSJ]
COLLEGE SEX CRIMES UP 51%
"The number of sex offenses reported at American colleges and universities went up in the last decade even as overall campus crime decreased, according to an Education Department survey that also suggests high schools are safer than they used to be." And George Will's commentary on college sexual assault is incredibly offensive. [AP]
JUNE 10 PRIMARY PREVIEW: WHAT TO WATCH FOR
"Six states have primary elections Tuesday, with Sen. Lindsey Graham (R-S.C.) and House Majority Leader Eric Cantor (R-Va.) hoping to thoroughly pummel their upstart conservative opponents." Here are other key races to pay attention to. And in depressing news, only one in six of your friends cares about Congressional elections. [HuffPost]
STATESIDE: Hillary Mania Ramps Up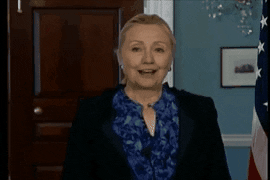 Read ten key passages from Hillary Clinton's memoir, which hit stores today. The couple who killed two cops in Las Vegas on Sunday believed law enforcement "were the oppressors." A former Sallie Mae unit, which was previously embroiled in a Veterans student loan scandal, may become the sole runner of federal student loans. See if where you live is next on #hiddencash's list. The courts ruled Texas can withhold the source of their lethal injection cocktail. A doctor has been suspended after he allegedly was "sexting" during surgery. Military grade gear is showing up at police stations across the country, "often without public notice." And Hollywood police employed tear gas to nab the fugitive who was patrolling rooftops with an assault rifle.
In riding in style news, this man took his baby goat for a motorcycle ride.
INTERNATIONAL INTRIGUE: Friendly Fire Tragedy
Insurgents seized a key Iraqi city this morning. A Paris bridge is literally buckling under expressions of love. The Taliban attacked a Pakastani training facility near the Karachi airport. This growing boldness "signals the Taliban's reach and resistance" according to The New York Times. Brazilians aren't loving all that World Cup spending. At least 20 more young women were kidnapped in Nigeria over the weekend, and all clues point to Boko Haram. "Friendly fire" killed five special operations forces in Afghanistan, one of the deadliest instances of self-inflicted casualties in the past ten years.
In futbol news, this beagle just loves to play soccer.
BUY! SELL! BUY! Priciest Lunch Around

It costs an awful lot to grab a burger with Warren Buffett. Forget reservations: restaraunts are developing ticketing systems much like concerts or sporting events. Check out the best and worst states to make a living in 2014. You won't believe how high lifetime costs of autism are. And quit your job and go be a Silicon Valley intern -- we promise it has better perks. [Image via Buzzfeed]
In going for a stroll news, this is what it looks like when your pet hippo escapes.
SCOUTING REPORT: Freak Accident Paralyzes Olympian
Donald Sterling's changed his mind: he's suing the NBA after all. Looks like we have a new coach for the Knicks. This six-time Olympic gold medalist severed her spine in a freak ATV accident. Nate Silver's made his World Cup prediction -- no need to watch now. Speaking of, this is the Venn Diagram of each country's World Cup hopes.
In shopping is hard news, these men have given up.
CULTURE CATCH-UP: Clear Eyes, Full Hearts

The success of "Fault in Our Stars" proves young women are the new "hottest box office demographic." Josh Brolin and George Clooney will star in a Coen brothers movie. Megyn Kelly beat Bill O'Reilly in the key 25-54 demographic for the first time. And check out this "Friday Night Lights" reunion... hey y'all!
In beachtime news, these pictures make it clear summer has arrived.
LIVIN': Your Morning Cereal's Overrated
Breakfast may not be all it's cracked up to be. Find out which is better for you in the battle between honey and sugar. We need to go to bootcamp with these pets. Take a look at this gorgeous kitchen revamp. It'll make you almost wish for contractors in your house for the next eight months. These forty maps explain food in America. And check out the five mistakes you're making each morning before 10 a.m.
In playing around news, this dog just loves this deer.
OTHER PEOPLE'S BUSINESS: That's So...Raven???

Clint Eastwood's son continues to smoulder as a model for Hugo Boss. Raven Symone's hair looks really, really different. Lil Kim named her daughter something you would imagine Lil Kim would name her daughter. And Halle Berry has been ordered to pay $16k in child support each month.
In love news, this wolf traveled across the country to find a new mate.
TWITTERATI
@OfficialWillow: It doesn't make sense that organic food costs more. If it's really organic you can go outside and pick it off a tree for $0.
@knowmorewp: Yes, this 11-story tower is made out of Legos http://t.co/nWE77BqlWh http://t.co/nWE77BqlWh

@zachbraff: Friends don't let friends use "bae".
@yokoono: Carry a picture of that spot in your wallet.
@historyepics: All this technology is making us antisocial. http://t.co/BXSgEUFTCC

ONE MORE THING
Here's how to eavesdrop like a pro.
Got something to add? Send tips/quips/quotes/stories/photos/events/scoops to Lauren Weber (lauren.weber@huffingtonpost.com). Follow us on Twitter (@LaurenWeberHP). Does somebody keep forwarding you this newsletter? Get your own copy. It's free! Sign up here.