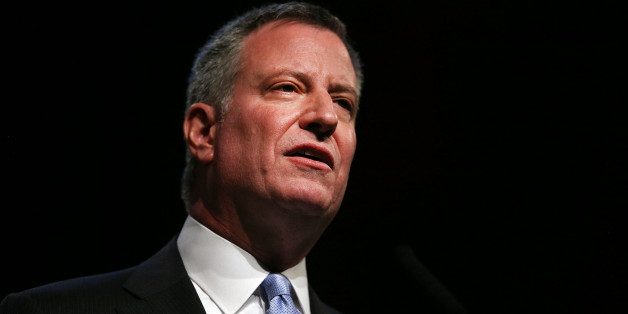 NEW YORK -- Mayor Bill de Blasio rocketed to City Hall on the promise of improving police oversight. But almost half a year after his inauguration, he has yet to appoint a new chair for the oversight agency that investigates citizens' complaints about police misconduct.
As the city's first-ever NYPD inspector general begins his work, the Civilian Complaint Review Board lacks a leader. It's a situation that is frustrating police-reform advocates and even some board members.
"I don't know what's going on. The mayor has spoken often and loudly about his interest in police oversight. You are the city police oversight agency," New York Civil Liberties Union lawyer Christopher Dunn said at a board meeting Wednesday. "I think all of you are a little bit hamstrung, because you recognize that you're a little bit left out there without leadership."
The board has lacked a full-time appointed chair since Jan. 1. The mayor's office told HuffPost that the leadership will come soon, although it did not set a deadline.
Spokeswoman Marti Adams pledged the mayor "will appoint a chairperson to lead this critical board in the coming weeks and months."
But board members are already frustrated with the delay -- and have been for some time.
"We need a chair," board member Alphonzo A. Grant, Jr. said in a February meeting. "This is not good for the agency to not have someone that is the day-to-day person for the agency to interact with the executive director and the staff."
The board is the civilian body that investigates complaints and refers substantiated allegations to the police, and it can also make recommendations to improve training practices. The lack of a chair means the organization does not have a single leader representing it in discussions with new Police Commissioner William Bratton as he pursues his agenda of improving community relations. The board has also been hobbled in its response to an apparent Department of Investigations inquiry into who leaked an agency memo to Dunn about stop and frisk.
The lack of a board chair may also stymie a response to complaints about the behavior of board member Tosano Simonetti at last month's gathering. Advocates claimed his dialogue with a police-reform organizer could scare members of the public off from commenting.
Nahal Zamani, advocacy program manager at the Center for Constitutional Rights, was making her first appearance at the board on May 14 when her public comment turned into a tense back-and-forth with Simonetti, a police commissioner designee to the board. The dispute centered over whether complaints about NYPD officers pointing their guns at civilians should be eligible for mediation instead of a full investigation.
When Zamani said that if a gun was pointed at her and a boot was placed on her neck, she might not feel comfortable to go into a mediation session with the officer, Simonetti repeatedly interrupted.
"This is not a drama course. This is real-life stuff," he told her. Simonetti had earlier described how a partner of his was shot in the 1960s after lowering his gun. A retired police officer who joined the force in 1957, Simonetti rose through the ranks to become first deputy police commissioner under former Commissioner Howard Safir in the 1990s.
Several minutes later, Zamani narrowed the scenario to talk just about the gun, saying, "I only spoke for myself how I would feel if a gun was on me."
"Have you ever been confronted with that?" Simonetti asked her. "Have you ever been shot at?"
The exchange became so tense that acting board chairman Bishop Mitchell G. Taylor, a city council appointee whose term expires on July 5, stepped in to stop it.
"Let me just say for the record that -- just so that no one is, you know, thwarted from giving public comment -- the purpose of public comment is so that you can make public comment without fear of retribution or challenge," he said.
Zamani told HuffPost later that she found Simonetti's tone "belittling, unprofessional, berating."
At Wednesday's meeting, Candis Tolliver, an advocate at the NYCLU, said she often tells people who believe they have been mistreated by the police to go to the review board. But, she said, "after last month's meeting I worry that advice might be misguided."
"Equally disappointing is that nobody tried to stop the yelling and taunting that Commissioner Simonetti directed at her," Tolliver said. She noted that Taylor eventually spoke up, but said "by then the damage was already done."
Simonetti declined to respond on Wednesday to Tolliver's comments. Reached at home last month, he denied that his interaction with Zamani grew heated, and said he does not want to scare off any member of the public from making comments.
"I hope not, I don't think that was the intent," he said.
Simonetti's current term expires on July 5 as well. He said he would like to stay on after then.
"I guess it's up to the mayor, you know. Whatever the mayor decides," said Simonetti. "I enjoy good health. I feel I'm an asset to the board."
BEFORE YOU GO
PHOTO GALLERY
Mayors Of America's Largest Cities