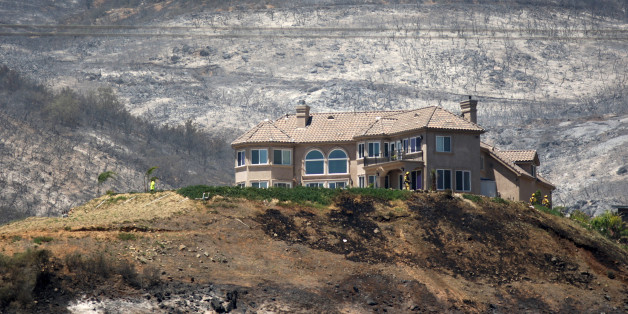 By Sharon Bernstein
SACRAMENTO, Calif., June 10 (Reuters) - Drought-stricken California could increase its water supply by a third by reusing water that would otherwise go down the drain and saving storm runoff, environmentalists said on Tuesday amid wrangling over the state's response to dry conditions.
The report by the Natural Resources Defense Council and the Pacific Institute came as Democrats and Republicans in the state Legislature bickered over whether to ask voters to spend money on new reservoirs and other water storage projects, or concentrate more on conservation and recycling efforts preferred by environmentalists.
"With widespread adoption of available water conservation and efficiency improvements, demand can be met more readily, less expensively, and with less pressure on our tapped-out rivers and groundwater basins," said Peter Gleick, president of the Pacific Institute sustainability group.
California is in its third year of a catastrophic drought that has forced farmers to fallow 400,000 acres (160,000 hectares) of land, dried up wells and left streams so low that fish have difficulty migrating.
Reusing water from laundry and other efficiency measures would help the state save up to 14 million acre-feet of water a year, the groups said. That is more than a third of the 36 million acre-feet the groups say can safely be used most years. California currently draws about 43 million acre-feet a year, with urban areas using 9 million, their data showed.
The report came a day after a coalition of Northern California leaders called on the Legislature to include funding for new storage facilities, including reservoirs, in a bond measure lawmakers hope to put before state voters in November.
To make the ballot, the bond measure must be passed by lawmakers and signed by Governor Jerry Brown by June 26, but negotiations have bogged down as Republicans fight for reservoirs and other storage projects, and Democrats push for conservation and recycling projects.
A deal in the state Senate to include funding for a reservoir appeared to be coming together this week, but was not finalized by Monday, a source close to the negotiations said.
A water bond is already slated to go before voters in November, but its $11 billion price tag is unpopular. The new one would replace it.
Brown, a Democrat who has steered a centrist course on spending, has said he would support a bond only if it were structured to win support from lawmakers and the public. (Reporting by Sharon Bernstein; Editing by Cynthia Johnston and Peter Cooney)
BEFORE YOU GO
PHOTO GALLERY
California Drought