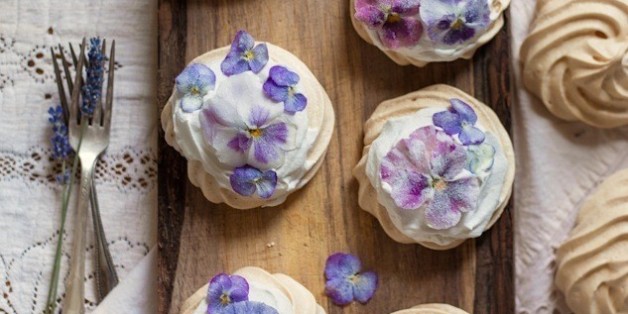 Sometimes when you arrange a bouquet of flowers just so, they look so pretty you kind of want to eat them. We have great news: sometimes you can. There are way more edible flowers out there than you would expect, and while most of them are perfume-y and extremely floral (like roses and chamomile), some of them are hearty, crisp and taste an awful lot like really pretty, spicy lettuce.
Edible flowers tend to pop up in recipes during late spring and early summer, just before the high season of things like tomatoes and squash. If you have never eaten a squash blossom, we have to insist, this is the summer to do it. You will love it and never look back. We pulled together some of the most beautiful ways to use edible flowers, from cakes to soups to frittatas and more. Lots of farmer's markets and grocery stores will sell little packages of edible flowers, but if you decide to go rogue and buy your own, always, always make sure you are actually buying flowers that are edible. Once you're sure, experiment away. Just looking at these makes us feel like we need to run around outside... and eat some flowers.
PHOTO GALLERY
Edible Flower Recipes List
Want to read more from HuffPost Taste? Follow us on Twitter, Facebook, Pinterest and Tumblr.
BEFORE YOU GO
PHOTO GALLERY
Cake Recipes