 One of the public faces of a major ad campaign aimed at touting coal's benefits for the developing world is actually a solar industry consultant based in Oakland, California, The Huffington Post has learned.
Peabody Energy Corp., the world's largest private-sector coal company, has been running an online campaign since February to promote coal as the answer to development challenges in poor countries. The campaign, branded "Advanced Energy for Life," argues that lack of access to energy is "the world's number one human and environmental crisis."
One of the most prominent faces of the campaign is a man named Rugigana "RK" Kavamahanga. The campaign's website bills him as a former Mali school teacher and Peace Corps volunteer who "shares a candid view on solving energy poverty as Africa continues its struggle to switch on." In the video, Kavamahanga, identified as an "energy finance consultant," discusses the continent's need for coal-fired electricity while promoting the model of South Africa, the world's sixth-largest exporter of coal.
"Africa needs more energy from all sources, but especially energy from coal, to provide the kind of baseload power that's required to end energy poverty," Kavamahanga says in the video:
But there is more to Kavamahanga's work history than what's detailed in the campaign.
A resident of Oakland, California, his online resume includes work as a field organizer and research analyst for a mayoral campaign, as well as marketing research in the telemedicine industry. His most recent position, however, was founder and CEO of a consulting firm involved with solar energy.
His firm, Oaktown Group, touts itself as "financing a greener future" via solar projects. The group's website was taken offline shortly after an inquiry from The Huffington Post, but screenshots of the site also show that it noted Kavamahanga's "passion for clean energy."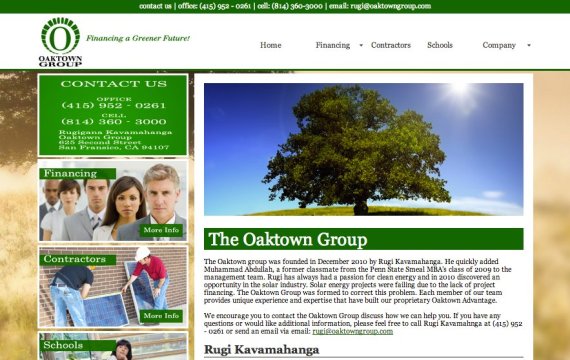 The LinkedIn page for the company says it "was founded to address the problems that contractors and developers are facing in securing project financing for commercial solar energy projects. We connect qualified solar energy projects with Project financing sources." And its Facebook page says that it "helps finance solar projects for schools, contractors, and others who want lower costs and reliable energy independence."
Kavamahanga's identity was brought to HuffPost's attention by the Climate Investigations Center, a small not-for-profit watchdog group that conducts opposition research on fossil fuel interests.
The Huffington Post contacted Kavamahanga to ask about the apparent contradiction between the views he espoused in the video for Peabody and those promoted by his company. When reached by phone, he declined to comment on his involvement with the video.
In response to a follow-up email asking how someone who helps to finance solar power projects ended up in an ad for the fossil fuels industry, Kavamahanga offered a statement that echoed the video's script. "I believe Africans deserve a better life that energy can provide," he wrote. "Working as a Peace Corps volunteer, I lived and worked in these conditions and saw the effects first hand. Africa needs more energy from all sources and that includes baseload power."
HuffPost was able to confirm that Kavamahanga did spend time in the Peace Corps in Mali, as stated in the video, between 2002 and 2004 as an urban small enterprise development adviser. Some Peace Corps volunteers do have secondary projects as well, and Kavamahanga said he also worked as a teacher, teaching basic business skills to children.
As HuffPost first reported in March, Peabody hired Burson-Marsteller, the world's largest PR firm, to work on the Advanced Energy for Life campaign. The company has a long history of working with companies and governments at a crisis point -- including work for the tobacco industry in the 1990s, when lawmakers were seeking ways to curb the public health risks posed by smoking.
A representative for Burson-Marsteller directed questions about the ad to Peabody.
Beth Sutton, a spokeswoman for Peabody, said that Peabody produced the ad as part of its "collection of digital and print materials that offer perspective on energy poverty, which we believe is the number one human and environmental crisis we face." Asked about how the company recruited people to appear in its ads, Sutton said, "The campaign features a number of voices who recognize the importance of alleviating energy poverty, creating access to low-cost energy and improving emissions through today's advanced coal technologies."
While Kavamahanga and Peabody were not forthcoming about the reason why someone with a self-proclaimed "passion for clean energy" would appear in an ad promoting coal, Kert Davies, director of the Climate Investigations Center, said the ads misrepresent Kavamahanga's expertise. "We don't know exactly who recruited this gentleman, Burson-Marsteller or subcontractors, nor what exactly they disclosed to him about the use of this video in a coal industry propaganda campaign," he said, "but the intent is obvious -- to characterize him as an expert in African energy policy, which clearly he is not."
Peabody's Advanced Energy For Life campaign has also come under scrutiny in the United Kingdom. The environmental group World Wildlife Fund Europe asked regulators to look into whether the campaign misled the public with an ad that ran in the Financial Times. WWF filed a complaint with the UK's Advertising Standards Authority in April, and the agency took up that investigation last month.
Darek Urbaniak, the energy policy officer for WWF Europe, told The Huffington Post that the group filed the complaint because the ad didn't disclose Peabody as its source, and because the ad "had some misleading statements." Like the company's online campaign, the print ad argues that energy poverty is the "world's number one human and environmental crisis."
"Peabody fails in the advertisement to disclose that the core of the company operations is coal mining and supplying coal-fired power plants," wrote the group in its complaint, originally filed in Belgium and later transferred to the UK. "[T]he company is not honest about its operations in the advertisement."
"They don't disclose in the advert what are the real impacts of coal on people, not to mention on climate," said Urbaniak. He said Peabody is promoting coal for use in developing countries because developed countries are increasingly turning away from coal in an effort to curb emissions. "In developing countries, people do need access to energy," he said, "but there are other sources of energy."
Peabody has pushed back against the complaint, filing a nine-page response to the ASA. "WWF has attacked this pro-people, pro-energy and pro-environment message because it wants to stop the discussion," said Sutton in a statement. "Filing this complaint to advance the group's negative campaign is itself misuse of the Advertising Standards Authority process."
Even if the agency agrees with WWF's complaint, it can only tell Peabody to stop running the ad, and that it cannot use those claims in future ads.
The campaign itself is not going to go away. Sutton has said Peabody intends the campaign to "be sustained long term" and that it "is aimed at changing the global conversation to focus on energy poverty."