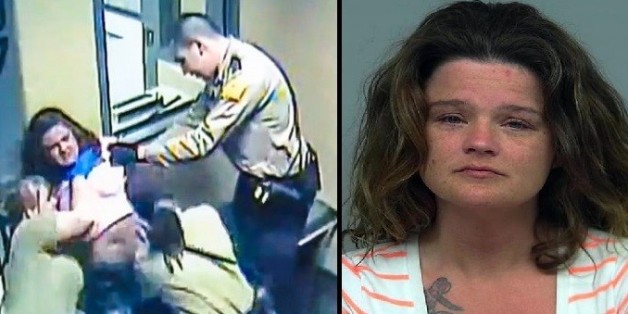 Inmates at Floyd County Jail in Indiana were stripped, tortured, humiliated and abused, according to a class-action lawsuit filed Thursday by a local law firm.
"[The plaintiffs] were unjustifiably and unconstitutionally treated in a manner that generated tremendous and overwhelming embarrassment, humiliation, and mental and emotional distress," attorney Laura Landenwich alleges in the lawsuit.
The suit was filed by the firm Clay Daniel Walton & Adams PLC in U.S. District Court for the Southern District of Indiana, on behalf of Tabitha Gentry, Vincent Minton, Michael Herron and Adam Walker. It includes all individuals who were subjected to the alleged abuses from June 12, 2012, to the present.
"Such treatment has been regularly perpetrated by [the] defendants and there are potentially hundreds of members of this class," the lawsuit states.
Floyd County Commissioner Mark Seabrook and Sheriff Darrell Mills are named as defendants, along with at least five jail officers.
The lawsuit charges that the plaintiffs were subjected to a number of abuses, including excessive force, being housed naked for excessive periods of time and denial of access to bathroom facilities. The lawsuit also alleges that abuses were videotaped, and that the footage could be available to the public (via a public records request) or other members of Floyd County government.
The sheriff's department did not return multiple calls for comment from HuffPost this week. Seabrook did not return a voicemail seeking comment on Friday afternoon.
"Defendants' treatment of Plaintiffs and other class members is intolerable in a civilized society, and presents a marked departure from the standard to which the Western world adheres for the treatment of prisoners of war during wartime, let alone the standard of acceptable treatment for American citizens on American soil," the lawsuit states.
One of those suing is Tabitha Gentry, a 32-year-old mother of four from New Albany, Indiana. Gentry was arrested on March 30 for disorderly conduct and resisting an officer. Following her arrest, she was taken to the Floyd County Jail.
Landenwich told The Huffington Post on Thursday that her client was forcibly stripped by "two male deputies and two female deputies," placed naked in a solitary cell and pepper sprayed. Landenwich also said that Gentry was not allowed to wash the pepper spray chemical from her body for nearly an hour.
"This is not Abu Ghraib," Landenwich told HuffPost. "This is someone charged with misdemeanor crimes in Indiana."
The suit outlines other claims of harsh inmate treatment from Minton, a 23-year-old music store employee; Herron, a 36-year-old Army veteran; and Walker, a 31-year-old Army veteran.
"What we have learned over the last few weeks is that this is … happening as part of a pattern and practice at this jail," Landenwich told HuffPost on Friday. "We believe there are potentially hundreds of people -- male and female -- who were stripped naked [and] exposed to officers of the opposite sex."
Landenwich added, "We have asserted claims on behalf of all of those people, many of whom have contacted me and said they have been too afraid of retaliation to come forward. We feel this is the best mechanism for changing this practice and holding some people accountable for these egregious violations."
A woman named Ashley Storms made similar allegations against the jail in a September lawsuit against the county. The Louisville Courier-Journal reported that Floyd County recently settled that suit, and the resolution is not public. The newspaper also reported that Storms and Gentry are cousins.
READ THE LAWSUIT:
Like Us On Facebook |

Follow Us On Twitter |

Contact The Author
BEFORE YOU GO