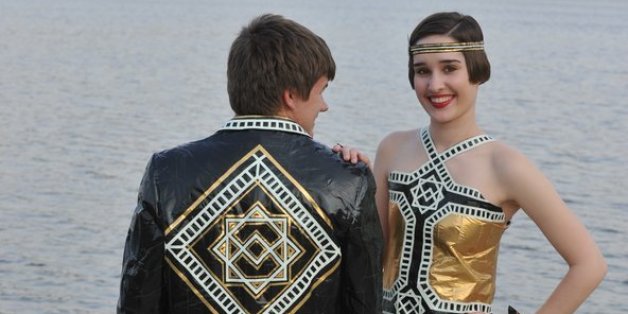 These would be the coolest prom outfits we'd ever seen even if they weren't made out of duct tape.
As part of the "Stuck at Prom" competition by Duck Brand Duct Tape, Michigan high school couple Ryan Danko and Gabrielle Farina made awesome, 1920s-inspired prom outfits. The pair are now finalists in the competition, which awards winners $10,000 each, according to The Livingston Daily Press & Argus.
According to the competition's website, it took Danko and Farina 59 hours and 12 duct tape rolls to make their outfits.
"The dynamic, carefree lifestyle and fashion of the 1920s inspired these Duck Tape outfits (which we later discovered matched perfectly with our prom's theme, The Great Gatsby)," the couple told the competition's website.
An added bonus: The costumes are also glow in the dark.
To see photos of the outfits, take a look at the album below:
BEFORE YOU GO
PHOTO GALLERY
The Most Interesting High Schools In America