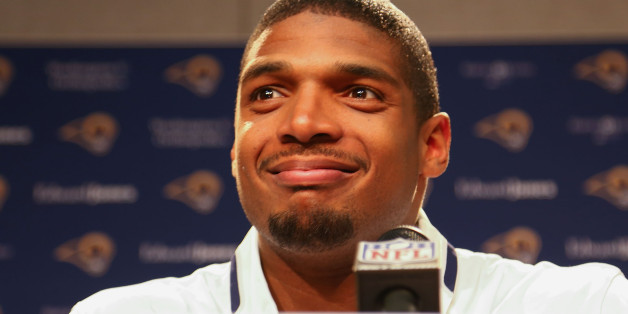 Michael Sam has taken another historic step toward realizing his dream of playing in the NFL. The first openly gay player ever to be selected in the NFL Draft, Sam has signed a rookie contract with the St. Louis Rams.
Grateful, humbled, and motivated after officially signing with all my Rams rookie brothers. Let's do this!! #RamUp pic.twitter.com/quFCf01tJw

— Michael Sam (@MichaelSamNFL) June 12, 2014
The Rams announced on Thursday that they had signed all 11 players selected by the team in the 2014 NFL draft, including Sam. A first-team All-American defensive lineman from the University of Missouri, Sam signed a four-year, $2.65 million contract, with $46,000 of it guaranteed, reported Mike Garafolo of FOX Sports. All of the Rams' rookie signees went through some financial education before signing their deals.
"With the new rookie cap and everything it's really not difficult to get the deals done," Rams coach Jeff Fisher said Tuesday, via Nick Wagoner of ESPN. "So we just felt like this time would be better served putting them in situations from an educational standpoint, financial planning, those kind of things. We've done a lot of that."
Sam, who came out during interviews with ESPN and The New York Times in February following a stellar season at Missouri, was the selected by the Rams with the 249th overall pick in the 2014 NFL Draft.
While many believed that Sam, who had been named the 2013 SEC Co-Defensive Player of the Year, fell in the draft because he had announced that he was gay, he did not seem deterred by being the eighth-to-last selection of the 2014 NFL Draft in April.
Thank you to the St. Louis Rams and the whole city of St. Louis. I'm using every once of this to achieve greatness!! pic.twitter.com/QESdOJVzsw

— Michael Sam (@MichaelSamNFL) May 10, 2014
In his first press conference with the Rams, Sam made his aim clear.
"I'm determined to be great," he told reporters.