 Gallup finds the electoral environment for members of Congress at or near all time lows. Americans think Hillary Clinton would do a better job on most issues than Barack Obama. And most people are already bored by 2016. This is HuffPollster for Monday, June 16, 2014.
CLINTON OUTRANKS OBAMA ON THE ISSUES - CNN: "If Hillary Clinton is elected president in 2016, most Americans say they think she will do a good job handling crucial domestic and international issues, according to a new national poll. And the CNN/ORC International survey released Monday also indicates that the former secretary of state scores much higher than President Barack Obama on every issue tested. 'That's helpful to her chances of actually getting elected if it holds up through 2016,' says CNN Polling Director Keating Holland. 'It suggests that the President's low marks on most issues might not drag Clinton down if she runs for the White House again….In fact, a majority think Clinton would do a good job on all nine issues tested in the poll; Obama's current job approval rating never breaks 50% on any of those same nine issues.'" [CNN]
Democrats' support for Clinton candidacy nears 75 percent Kathy Frankovic: "She may be still thinking about whether or not she will run for President in 2016, but if it were up to Democrats, Former Secretary of State Hillary Clinton would. In the latest Economist/YouGov Poll, an even higher number want her to run now than over three months ago….Asked to describe Clinton, those with a favorable opinion overwhelmingly mention strength as her best characteristic….This sets Clinton apart from the current President, the man who defeated her for the Democratic nomination in 2008. 45% of the country holds a favorable view of Barack Obama, but strength is not one his dominant characteristics." [YouGov
WHY DON'T HISPANICS HAVE A BIGGER POLITICAL PRESENCE? - Nate Cohn: "[N]o demographic group is more marginalized in American elections than Hispanics. Many are ineligible to vote, while those who can vote often do not or are concentrated in noncompetitive districts and states….Hispanics make up about 17 percent of the population of the United States. In the Senate races likely to determine whether Democrats or Republicans control the chamber, Hispanic voters will probably make up less than 3 percent of the electorate….The power of Hispanic voters is further diluted by geography. Hispanics are disproportionately concentrated in large states, like California, Florida and Texas." [NYTimes]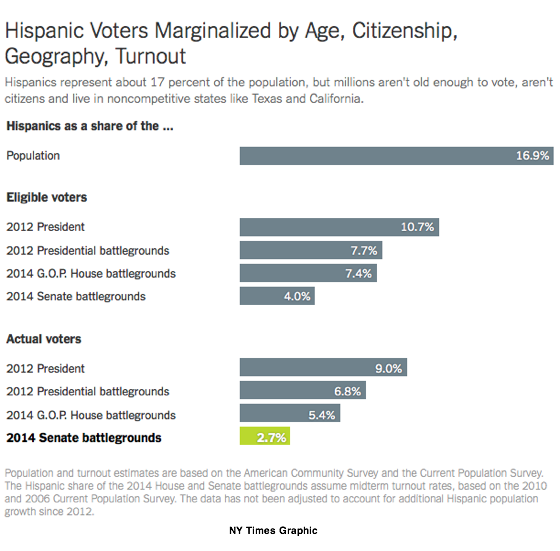 MOST PEOPLE BORED BY EARLY 2016 COVERAGE - Emily Swanson: "A Washington Post/ABC News poll released last week found nearly half of Americans consider soccer to be 'dull' or 'boring' -- up from a third who said that 20 years ago. But Americans find other events even more of a snooze, according to a new HuffPost/YouGov poll. Take early coverage of the 2016 presidential election. Thirty-five percent of Americans described recent coverage as 'on the dull side,' and 25 percent characterized it as 'a big bore.' Eighteen percent described it as 'interesting.' Only 3 percent said it was 'exciting.'...Still, few said they think the media has been covering the 2016 race too much…. Forty-four percent of respondents said they'd like the media to reduce coverage of Hillary Clinton, the former first lady and secretary of state." [HuffPost]
AMERICANS APPROACHING MIDTERMS WITH DECIDEDLY UN-CHEERFUL ATTITUDE - Jeffrey M. Jones: "The election environment for congressional incumbents in 2014 will be challenging, with several key public opinion indicators as negative or nearly as negative as they have been in any recent midterm election year. This includes congressional job approval, which, at 16%, is on pace to be the lowest in a midterm election year since Gallup first measured it in 1974. In years when congressional job approval is low, there tends to be greater turnover in House membership." [Gallup]
But the correlation between congressional approval and reelection rates is small - Philip Bump: "An important reminder from Gallup: Very, very few people think that Congress is doing a good job. An important reminder from us: Nearly everyone in Congress will be reelected anyway….The lowest approval rate prior to 2014 was in the Republican wave of 1994, when only 22 percent of Americans approved of the job that Congress was doing. And that year, according to the Center for Responsive Politics, 'only' 90 percent of Congress won reelection. That's all. Just nine-in-ten. There's a very slight correlation between job approval and reelection rates. Very slight." [WashPost]
EVEN BIKE LANES ARE POLARIZING - Christine Matthews and Emily Swanson: "Last week, Pew Research released a survey of 10,000 voters focused on partisan polarization. In their survey, Pew also collected data about lifestyle polarization. For example, Liberals want to live in smaller houses within walkable communities; Conservatives prefer bigger houses with an ability to drive to places of interest. This reminded us of a survey we conducted late last year that explored partisan attitudes toward bicycling and bike lanes….Nearly two-thirds of Democrats want policies to make bicycle commuting easier compared with 41% of Republicans. Seven in ten Liberals support such policies, compared with 36% of Conservatives….While largely choosing positive attributes about cyclists, Republican men were most likely to find cyclists just generally 'annoying.'" [HuffPost]
MONDAY'S 'OUTLIERS' - Links to the best of news at the intersection of polling, politics and political data:
-New York Governor Andrew Cuomo (D) has a 36-point lead over rival Rob Astorino (R). [Siena]
-Two partisan surveys of the Mississippi GOP Senate runoff find very different results. [Chism, Polling Company for Citizens United]
-Two thirds of Americans say they're satisfied with how the health care system works for them. [Gallup]
-NYC voters are not thrilled with the idea of new tolls. [Quinnipiac]
-The percentage of Maryland voters who say they're following their state's primary "very" or "fairly" closely has dropped from 61 to 47 percent since 2010. [WashPost via @PostPolls]
-Maryland gubernatorial candidate Doug Gansler (D) appears to think the Washington Post conducted the blown polls on Eric Cantor. [WAMU, h/t @PostPolls]
-As income goes up, so does the amount of money people think it would take to consider themselves rich. [NYTimes]
CORRECTION: YouGov initially listed Peter Moore as the author of an article contrasting Hillary Clinton and Barack Obama. It was written by Kathy Frankovic.