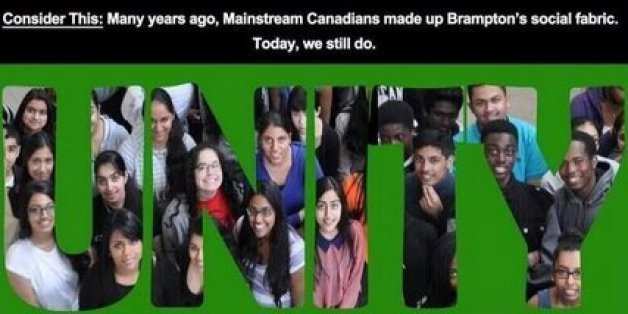 When a hateful flyer with an anti-immigration sentiment was brought to the attention of a class of high school students in Brampton, Canada, they came up with a brilliant response.
A group called Immigration Watch passed out offensive flyers around Brampton earlier this year, the Toronto Star reported.
The flyer, containing the header "The Changing Face of Brampton," shows two images: one of an all-white crowd with the label "From This ..." and the other of a group of Sikhs protesting with the label "To This ..." The second image was taken in India, according to the Toronto Star.
Racist flyer distributed in Brampton :( pic.twitter.com/aFdyZbj9Yj

— Design Canada (@The_CDR) April 26, 2014
The handout was brought into the "Genocide and Crimes Against Humanity" class at Louise Arbour Secondary School by teacher Lanny Cedrone, who used it to spark discussion in his 11th grade course, according to the Brampton Guardian.
The students then decided to respond to the bigoted circular by making their own flyer.
"The reality is, the original flyer has misrepresented our experience in our day-to-day lives in Brampton," Sonali Prasad, a student at the high school, told the Toronto Star. "Anybody could respond to hate with hate, and ignorance to ignorance. We want to go with an open mind and just give people the truth. That's the difference."
The universe doesn't know the difference between you & me #ConsiderthisBrampton pic.twitter.com/U0cNtyRBL0

— Jagneet S. (@MrJagSingh) May 28, 2014
The students' flyer contains the word "Unity," and displays the smiling and diverse faces of classmates, as well as an answer to the question posed by the original flyer, "Is this really what you want?"
The answer? A resounding "Yes."
BEFORE YOU GO
PHOTO GALLERY
Graduation Quotes To Inspire High Schoolers