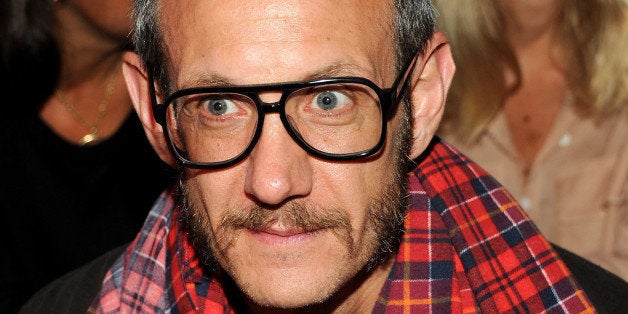 We suggest you read the entire article on NYmag.com to find out more about the man behind the smile and thumbs-up pose, but we've taken out a few notable quotes that we thought were worth reading.
1. The Internet is "insane" to him.
"Totally craziness. Like a little cancer. People can just do whatever they want, say whatever they want, be totally anonymous. It's totally out of control."
"'I'll put you in Vogue,'" Richardson, in his studio, said bitterly. "So corny. Ridiculous. Who talks like that? When people call me a pedophile and fucking bullshit, that's a horrible thing to say about someone."
3. Models were never alone on his more personal shoots, but things almost always turn sexual.
"It was always assistants, or other people around, or girls brought friends over to hang out. It was very daytime, no drugs, no alcohol. It was a happening, there was energy, it was fun, it was exciting, making these strong images, and that's what it was. People collaborating and exploring sexuality and taking pictures."
4. The bears in his shoots are just there because...Yeah, just because.
"I don't know, I like that film 'Ted.' It's great. Teddy bears are great. A lot of that stuff is, I don't think about, What theme should I explore? Teddy bear. Terry bear. I don't know. But they're comforting, bears."
5. Apparently his relationship with his parents was tumultuous, but he harbors no hard feelings.
"I have nothing but so much love for my parents. They're artists, and they showed me films and took me to museums and taught me about art and things that I'm eternally grateful for."
6. His raunchiest photographs were supposedly taken in consenting environments.
"When I was taking those pictures..I was very, like, 'Cool, sounds great, let's do it, great, okay, sure, great, cool, if not, no problem, never do anything you don't want to do, of course, I totally respect that.'" 
7. He understands why some people might regret working with him.
"I don't have any regrets about the work at all...but obviously I don't ever want someone to feel like that. It was never my intention. But also, people do things, and then they have regrets, and that's also nothing to do with me. Then don't do pictures like that again...I'm okay with myself about everything, and that to me is the most important thing."
BEFORE YOU GO
PHOTO GALLERY
Stars Shot By Terry Richardson (NSFW)