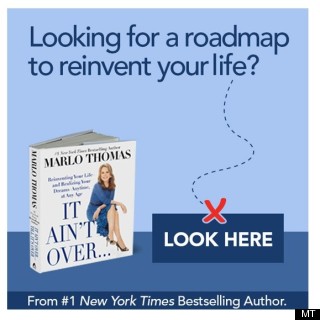 "One of the reasons I started my website is that I wanted a place for women to come together and dream. We women need to know that we don't have to hang on to an old dream that has stopped nurturing us—that there is always time to start a new dream. This week's story, an excerpt from my new book "It Ain't Over Till It's Over," is about Tina Reine of Palm Beach Gardens, Florida. Born with a facial deformity that made her shy and insecure, Tina ultimately overcame her self-consciousness, and now regularly wins admirers -- and wows audiences – from 35 feet off the ground." —Marlo, MarloThomas.com
"The elephant man."
That's how Tina Reine says she felt as a child in Evansville, Indiana. Born with severe facial deformities, including a cleft lip and palate, Tina was bullied mercilessly by her classmates for years.
"I had things thrown at me. Kids made faces at me," she says. "One time a boy told me I looked like I had been hit by a Mack truck." It was hard, but throughout the years of torment, Tina's staunch defender was her older brother, Mike.
"He would stand up for me and get into fights with the kids who bullied me," Tina says. "If it hadn't been for him, I don't know what would have happened."
Although she had undergone a series of corrective surgeries starting at six months, the deformities were still obvious. "I knew I didn't look normal," says Tina. "And nobody ever let me forget it." Feeling like a complete outsider, she escaped into her own world. "I didn't really have friends, so I'd play by myself and pretend I was someone else. I loved to dance, sing, and put on plays in my room for all of my dolls. They were my only friends and they made me feel safe."
Tina remained tucked inside her own shell, isolated though protected, until her freshman year in high school, when tragedy befell her family: Her big brother and guardian angel, Mike, was killed in a car accident.
"I was devastated," Tina recalls, "as were my parents. My extended family kept telling me that, as the only child left, I had to be strong for them. So I did my best. Mike had always been super-involved in school and extracurriculars, so I decided to put aside my own insecurities and take up that same role. I didn't want my parents to worry about me, and it also gave me a distraction from my own grief, so I just threw myself into every single activity that came my way."
Among those self-assignments was auditioning for the school play, a production of the musical Mame. Tina was selected for the chorus; it was the first time she'd ever performed in front of a real audience.
"It might have seemed like a small thing to other people," Tina recalls, "but for me, it was huge. I had been hiding myself all those years for fear of being made fun of, but now here I was, standing in front of everyone, self-confident. It changed the way I saw myself."
When her parents came to see her perform, Tina remembers, "they were floored. I seemed like a totally different person." From that point on, Tina knew she wanted to continue being onstage.
But her self-consciousness about the way she looked held her back. So she stayed away from theater, and tried to find other activities that engaged her. After high school, she studied Japanese at a small private college near her home, earning scholarships to pay her way. After graduation she held a series of jobs, at one point teaching English in Japan, a job that allowed her to save up the money she needed for what she hoped would be a final, life-changing surgery.
"I had heard about a bone-grafting procedure that could fill in the places in my face where the bone had never grown in properly," she says. So she sought out the surgeon who created it; and in 1990, at age 24, Tina flew to Texas by herself for the ten-hour procedure.
"When I woke up, I felt like my face was covered in Silly Putty. It took a while for the implants to settle and feel normal. There were so many screws in there that if you took an X-ray of my face it would have looked like a hardware store. But when I looked in the mirror afterward, I couldn't believe it! It was the first time in my life I felt that I looked not just normal, but even attractive."
Article Continues Below Slideshow
Still, it took a while for Tina's self-image to catch up with her outer image. "Those years of bullying and name-calling were still inside me," she says. "They weren't so easy to erase." But her transformation did give her the courage to try to tackle her long time dream: moving to New York City, the world capital of theater.
"Like most hopefuls, I got a job as a waitress and started taking dance classes," Tina says. "Musical theater, jazz, Bob Fosse-style, you name it." And before long, Tina found herself with enough confidence, and dance ability, to begin auditioning.
"My goal was to try out for a Broadway show," she says -- "not even to get the job, just to audition." And she surpassed that goal, landing dance roles in a few off-Broadway productions and even a stage show in Las Vegas.
But dance and waitressing weren't paying the bills, so, taking advantage of her time spent in Japan and her knowledge of the language, Tina started a business exporting American designer clothes and jewelry to Tokyo.
The business clicked, and inspired by her success, Tina applied to Columbia University, with the goal of becoming a Wall Street trader. "I knew I had a head for numbers and the ADD-type brain that could follow the constantly changing market dynamics." And after graduation, she did find her niche on Wall Street, as a carbon trader. "I still loved the performing arts and always made time to take a class or see a show," she says, "but it was exciting being in a field in which I was thriving."
But all of the good fortune came to an end in 2009, when the financial markets crashed. Tina knew it was time to make yet another change.
"I had loved living in New York for 18 years," she says, "but I was a huge wimp about the cold winters. I wanted to be somewhere warm, near the beach." So she convinced one of her JP Morgan clients, a company based in Palm Springs, Florida, to create a position for her there as a carbon trader.
"I was all set to move," she says, "and decided I'd treat myself to one last show in New York. I never imagined that buying that one ticket would change my life."
The production Tina chose was the Cirque du Soleil, the world-renowned stage extravaganza that features high-flying acrobats, including aerialists suspended on ribbons of silk. Tina had never seen anything like it before, and she was mesmerized.
"It was so elegant, like dancing on air," she says. "And you could tell it took so much skill. But what really struck me was how breathtakingly beautiful the dancers were."
Even after she got to Florida, Tina could not get the Cirque aerialists out of her head, and she wasted no time searching for a school that could teach her how to perform on silks. Amazingly, she found a weekend class in Miami -- a 90-minute drive away -- and she immediately signed up.
At age 43, Tina was nearly two decades older than everyone else in the class, which required a level of physical fitness she had never encountered before. "The amount of strength it takes just to pull yourself up on a silk is crazy," she says. "Still, I was so happy to touch the fabric, to learn how to wrap my feet around it, that the energy just exploded out of me. And it's so rewarding when you finally get that first move down, and then another, and then another.
"Imagine being 35 feet in the air," Tina continues, "then twisting yourself up in the fabric and suddenly unrolling your body in a dramatic drop. The first time I learned how to drop, I screamed all the way down!"
Six months into her training, Tina's teacher asked her to join a small group of students who were performing at a city street festival. "I instantly said yes," Tina recalls, "even though I was really nervous. But once I got up and started doing the tricks, I was in a complete state of bliss."
That one festival energized Tina's ambition, and she soon began choreographing her own routines to pop and classical music. She even did a full length solo performance at the famed Art Basel venue in Miami. "That was the crowning achievement," she says.
Although she continues to work in finance to pay the bills, Tina still performs regularly at clubs or corporate and charity events -- any place that will allow her to once again experience the unchecked joy of dancing on the air.
"I feel like I'm an inspiration to people my own age." The most rewarding part, Tina says, is teaching kids. "It's touching to watch a student master a move, and then see her feel so proud. I think about everything I went through as a kid and I know that there's incredible value in teaching young girls to be strong emotionally, and in helping them believe in themselves. I want them to learn to persevere, in the studio and in life, just as I have."
Want to take a class with Tina? Visit thegymnasticsrevolution.com for more details.
* * *
To find out more about Tina's high-flying success -- and to read 59 other inspiring stories -- buy your copy of "It Ain't Over Till It's Over." Click here.
Add Marlo On Facebook:
Follow Marlo on Twitter:
Sign up to receive my email newsletter each week - It will keep you up-to-date on upcoming articles, Mondays with Marlo guests, videos, and more!