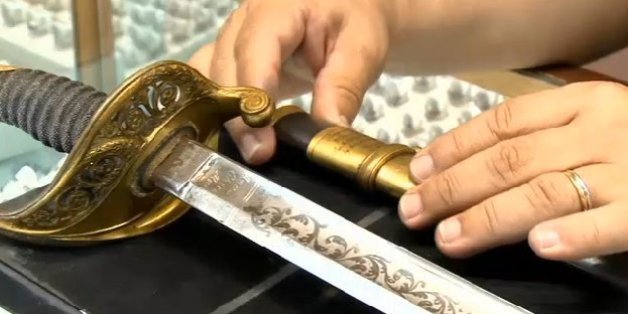 It's not every day one finds a beautiful antique sword that dates back to the Civil War and comes with its own fascinating history.
When Honolulu jewelry shop owner Ted Gonzales -- who purchases non-jewelry items as well -- bought the relic in 2012, he had no idea how the 150-year-old saber ended up in Hawaii or if it was even real.
"I bought it on pure enjoyment," Gonzales told KITV. "I thought it was cool."
But after one of Gonzales' customers, Paul Perrone, a military history buff, spotted the sword in Gonzales' shop and researched it, Gonzales knew he had to send it back to the place where its original owner died -- the National Park Service's Petersburg National Battlefield in Virginia, according to the Honolulu Star-Advertiser.
It turns out, the sword belonged to 2nd Lt. Edwin I. Coe, evident by the inscription on the scabbard, but what Perrone's digging uncovered was that the 19-year-old soldier was mentioned in government archives, along with his history and a photo of him, the latter of which is very rare.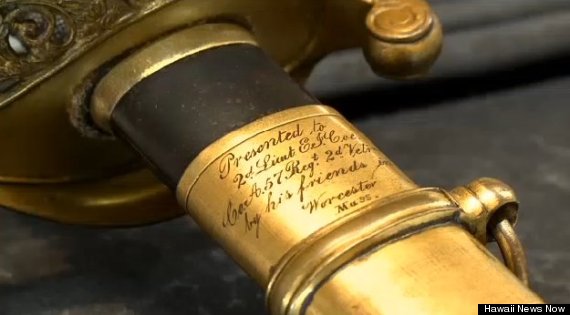 The lieutenant's death at the Battle of Petersburg on June 17, 1864 was noted in the regimental history of the 57th Massachusetts Volunteer Infantry. It is also known that Coe was laid to rest in the Poplar Grove National Cemetery overseen by the Petersburg National Battlefield, according to what Jimmy Blankenship, a historian for the battlefield in Virginia, told the Honolulu Star-Advertiser.
"The majority of Civil War swords have no documentation," Blankenship said. "Lt. Coe's sword is indeed a very important Civil War artifact, and it definitely belongs here at Petersburg."
The museum, which plans to display the relic in the battlefield's visitor center, is buying the sword for $1,600, twice the amount Gonzales originally paid for it, according to Hawaii News Now.
Despite Gonzales' initial impulse to shop the saber around, he told HuffPost that Perrone was so passionate and enthusiastic about the sword's provenance, "it would be a shame to have it waste away on someone's mantle."
Now, the gleaming piece of history will be on view for all to see.
Hawaii News Now - KGMB and KHNL
BEFORE YOU GO
PHOTO GALLERY
Weirdest Museums