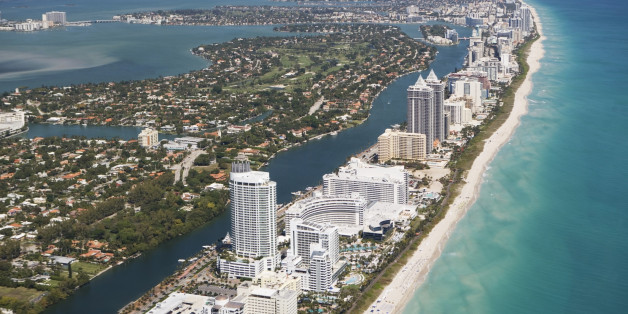 By David Adams
MIAMI, June 17 (Reuters) - A survey of Cuban Americans in Miami shows eroding support for hardline Cold War-era policies adopted by the United States against Cuba, with a majority willing to accept closer ties with the communist-ruled island.
The poll, released on Tuesday by Florida International University, found that 52 percent of 1,000 Cuban Americans surveyed in Miami-Dade County oppose continuing the five-decades-old trade embargo against Cuba, though that drops to 49 percent among registered U.S. voters.
An even greater majority - 68 percent - favor diplomatic relations with Cuba.
A similar number - 69 percent - favor lifting travel restrictions to Cuba for all Americans, according to the poll, which had a margin of error of 3 percentage points. Current policy allows visits to the island only under tightly controlled licenses for cultural and academic tours.
The results highlight the shift among members of the Cuban exile community who fled the island nation to the United States to escape the rise of communism in the 1960s and shows opinions have grown far less monolithic due to demographic changes.
The survey was funded by the Trimpa Group, a Democratic-leaning consulting firm based in Denver that promotes social change, and Open Society Foundations, which funds public policy causes founded by billionaire investor, George Soros.
Guillermo Grenier, a sociology professor at the university who helped lead the survey, said the findings could prompt the Obama administration to further revise its U.S.-Cuba policy by permitting greater travel and commercial activity to help an emerging private sector.
"There's no reason to fear political backlash any more over Cuba policy," he told Reuters in an interview.
The Cuban American community in the United States, numbering between 1.8 and 2.2 million, has traditionally been a highly effective political lobby to block efforts to lift the embargo.
Conducted between February and May as part of a periodic survey of Cuban Americans dating back to 1991, the poll found that younger exiles who left Cuba more recently were more favorable to changing policy than those who came in the 1960s.
"The trends are clear," Grenier said, noting that older exiles were dying while 20,000 new Cubans arrive in the United States every year under a migration accord with Cuba.
For example only 8 percent of younger Cuban Americans ages 18 to 29 support continuing the embargo, compared to 60 percent of those ages 65 and older, the poll showed. In 1991, 87 percent of those surveyed backed the embargo compared to 48 percent now.
Still, the latest figures found that a majority of Cuban Americans - 63 percent - support keeping Cuba on the United States' annual list of state sponsors of terrorism, along with Iran, Syria and Sudan.
Asked if they would vote for a candidate who advocated replacing the embargo with support for private businesses in Cuba, 57 percent of registered voters said yes.
A larger majority - 81 percent - of registered voters said they would support a candidate who advocated replacing the embargo with a policy that increased pressure on the Cuban government over human rights. (Editing by Susan Heavey)
BEFORE YOU GO
PHOTO GALLERY
Obama's Handshakes Around The World