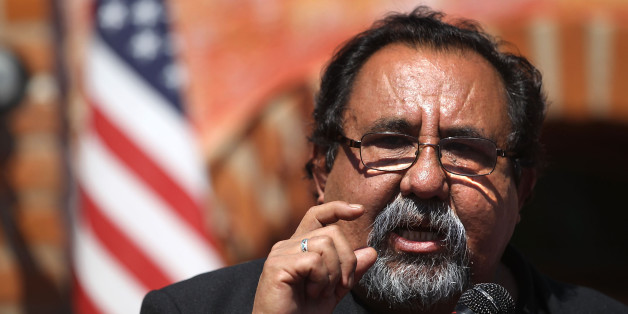 WASHINGTON -- Rep. Raúl Grijalva's (D-Ariz.) visit on Monday to a facility holding hundreds of unaccompanied minors near the U.S.-Mexico border was derailed when U.S. Customs and Border Protection officials refused to allow his guests, including religious leaders, to enter with him, he said.
As the U.S. faces a surge of unaccompanied minors crossing the border into Texas, hundreds have been moved to Nogales, Arizona, for processing by Customs and Border Protection before they can be transferred to the Department of Health and Human Services, which is charged with caring for them and finding family members who may be in the U.S. By law, the minors are supposed to go to HHS within three days, but given the large influx, many children have been left in border facilities for longer.
Grijalva wrote in a letter to President Barack Obama on June 9 expressing concerns about the Nogales facility, noting that reports indicated it was "not in a suitable condition to hold the unaccompanied children."
Prior to his planned visit on Monday, Grijalva asked to see sleeping areas, shower facilities, common areas and the processing area, and to speak with some of the children.
Emails obtained by The Huffington Post show Grijalva's office provided names for his guests, who included a Grijalva staffer, a representative for Rep. Ron Barber (D-Ariz.), four religious leaders, a school district official, and an advocacy group member. Grijalva said CBP officials gave the okay for the visitors, but refused his request to speak to children. But when the group arrived at the facility, Grijalva and his guests were told that only the congressman and his staffer could enter.
Grijalva said he was particularly frustrated because the agency has allowed others to tour the facility and, in his view, use what they saw for political reasons. He cited Rep. Matt Salmon (R-Ariz.), who visited the facility last week and then blamed Obama for the situation there.
Grijalva said he was "incensed" when told his guests could not tour the facility as planned.
"I was pretty angry about it," Grijalva said in an interview. "[For the officials] not to understand that everybody is watching the situation, and not to understand that some of the people that you're parading through there come out the next day and trash the process, trash the fact these kids are here, trash Obama and the administration. And then you have people that are coming with the singular intention of the well-being of those kids and you say they can't go in -- that was really insulting."
Grijalva ended up scrapping the visit entirely because of the exclusions. He said he hoped to reschedule.
CBP officials said in a statement to the Arizona Daily Star that "[a]ll persons requesting to visit a CBP facility must demonstrate a clear, concise purpose for requiring access and must submit their request in advance for approval." The agency did not respond to a request for comment from The Huffington Post.
One of Grijalva's guests was the Rev. Alison Harrington, pastor of South Side Presbyterian Church of Tucson, Arizona. She said she traveled there because she is concerned about the treatment of the children after reports of abuse in other instances by CBP officers. Harrington said she and the other would-be visitors would continue to try to visit.
"It was one of those experiences were it was hard to believe that I was in the United States of America," Harrington said. "Even when we were down there at the facility where they're being held, just to know that there are children as young as 3 years old being detained in a warehouse -- as a religious leader, it upsets me. As an American, it upsets me. As a mother, it enrages me."
BEFORE YOU GO
PHOTO GALLERY
Overwhelmed Border Patrol