 Some people prefer to roll up to a party in an expensive sports car or limousine; others prefer to show up in a Transformer. Luckily for the latter group, Uber is offering customers in Dallas, Phoenix and Los Angeles the chance to go for a spin in none other than Optimus Prime.
To promote the June 27 release of Michael Bay's "Transformers: Age of Extinction," the popular car request service will pick people up in the giant, flame-emblazoned truck the iconic hero transforms into.
(Story continues below.)
Your Uber experience is about to be transformed in @Uber_Dallas, @Uber_PHX and @Uber_LA #SomethingBigIsComing pic.twitter.com/d00w1U8gr2

— Uber (@Uber) June 15, 2014
There's no guarantee that this Optimus Prime will be capable of fighting off any Decepticons. Our bet is it won't.
To request the truck, users in these three cities can simply open the Uber app and select the "AUTOBOTS" option when they see it. Customers then simply set their pickup location and tap "ROLL OUT!" and the truck will be on its way.
The people at Uber wrote in a blog post that there will be only one Optimus Prime available, so making contact might take a few tries. To prevent any one group from monopolizing the vehicle's time, rides will be limited to 15 minutes each.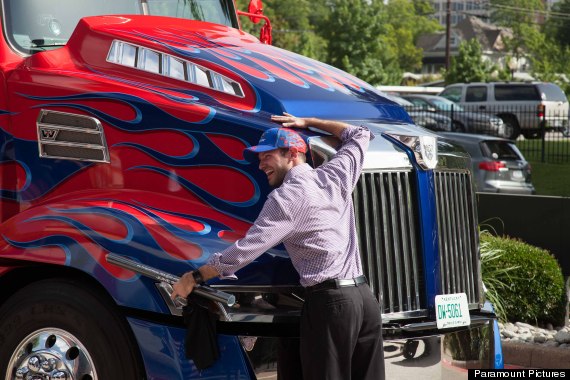 A fan hugs the Optimus Prime truck in Dallas.
Optimus Prime will be in Dallas June 16, in Phoenix June 19 and Los Angeles June 21. Uber users can be picked up between 1 p.m. and 7 p.m. local time.
Check out the trailer for "Transformers: Age of Extinction" below.