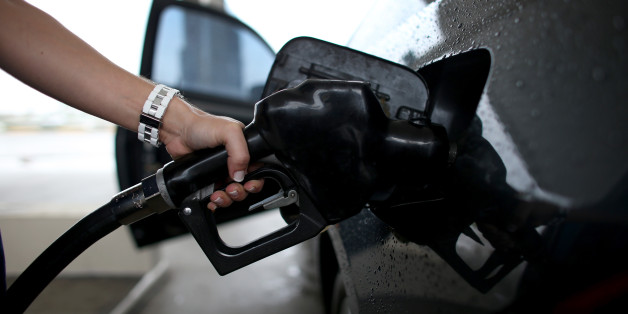 Drivers in Berkeley, California may soon get a stern warning about the impact of carbon emissions on the environment every time they fill up at the gas pump.
As the Los Angeles Times reported Tuesday, officials in the famously progressive city will consider a proposal to require gas stations to affix stickers warning that carbon dioxide emissions contribute to climate change and its adverse effects. If approved, the measure would make Berkeley the first American city to mandate such warnings.
The design for the stickers, which was approved by two city environmental panels, is modeled after warnings on cigarettes. The warning would remind drivers that the state of California considers rising greenhouse gas levels to be a threat to the public's health and safety.
The "Beyond The Pump" campaign has been led by 350 Bay Area, a grassroots environmental group.
"We feel that the message is accurate and noncontroversial," 350 member Jack Fleck told KQED. "It is simply a fact that the state has found that greenhouse gases pose a serious threat to the public health."
As the San Francisco Chronicle noted in January, the group also hopes to get San Francisco and Oakland on board with the warnings.
Unsurprisingly, the oil industry is already pushing back on the campaign, arguing that the stickers may be unconstitutional.
"Far less restrictive means exist to disseminate this information to the general public without imposing onerous restrictions on businesses and forcing unwanted speech in violation of the First Amendment," Western States Petroleum Association President Catherine Reheis-Boyd wrote in a letter to the city.
Berkeley's city council is expected to weigh the measure in September. Two councilmembers have already voiced support for the ordinance.
"It's a perfect opportunity to remind people that there are greenhouse gas impacts and there are alternatives," Councilman Kriss Worthington said.
BEFORE YOU GO
PHOTO GALLERY
What Climate Change Just Might Ruin