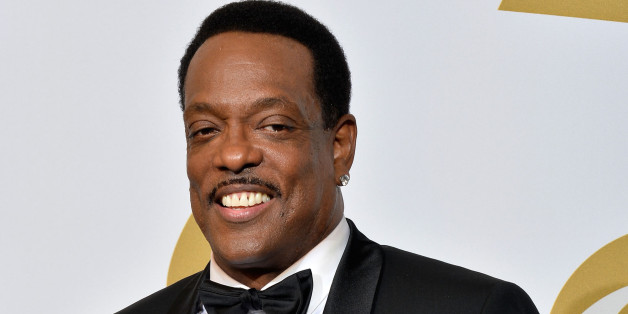 For decades, singer-songwriter Charlie Wilson has managed to overcome various personal and professional triumphs while maintaining relevance with his legions of fans. Despite struggling with drug addiction and homelessness in the '90s and prostate cancer in recent years, the former Gap Band frontman has found his way back to a place of health and success, scoring five Grammy nominations since 2010 (to add to the two he had before). It's safe to say that the R&B-funk veteran is truly "Outstanding."
Between touring steadily and collaborating with some of today's biggest stars, including Justin Timberlake, Kanye West, Snoop Dogg and Pharrell Williams, Wilson has continued to share his chart-topping hits and inspiring wisdom with a new generation of listeners.
During a recent interview with The Huffington Post, Uncle Charlie dished on raising cancer awareness, along with his intentions to round up Snoop, West, Williams and Timberlake in the studio for a forthcoming project.
You're currently featured on Lupe Fiasco's track "Mission" in an effort to help raise awareness about cancer. As a cancer survivor, how important was it for you to be a part of the track?
I've been battling cancer since 2008, so it was the perfect scenario. And I'm so happy that Lupe is addressing the issue, because the younger generation think they're untouchable. They don't think the diseases can get them. And so it's a great thing that he comes out and he's connected with some people [who are] really dealing with this issue ... I've been talking about my cancer since 2008. I don't know if the youngsters were listening to me or not. I know millions and millions of men were listening to me, but now, the 18- to 25-year-olds, I don't know if they were really listening to me, because they don't think they can be touched by this disease or any disease for that matter. So for him to speak about it and keep it 100, I believe that's a good thing.
In addition to appearing on the track, I can only imagine that you're recording new music for your next album. Can fans expect a new album this year?
Oh for sure! But it won't be this summer. It'll definitely be 2015. So we're lining up everybody, and about to start recording. I've heard a lot of records that I want to record and so we're just gearing up. I know Kanye was getting married, and so we had to get through that. And I know Pharrell is touring. So we're just waiting for everyone to free up and then we're going to get started with what we gotta do.
Aside from Pharrell and Kanye, you've also frequently recorded with Justin Timberlake and Snoop in the past. Can fans expect them to be on your album as well?
Well, we'll see how that is. The four of us hadn't been together except for when BET gave me the Lifetime Achievement Award last year. We hadn't been together in like six or seven years. And so, for all of us to get back and be on a track and do videos or whatever, we talked about it, laughed about it. We were like, "Who's up first?" And everybody was looking at me like, "Uncle Charlie's up first." [laughs] So I don't know if that's going to come to pass or what. I would love to do it -- we just gotta see if that's going to work, because everybody's so busy.
Justin's on tour, Pharrell's on tour, Snoop's always out of the country, I work every weekend. So we all probably would just have to postpone and cancel some stuff and then for about a week just go ahead and pin the thing up with all of us together and just put a snap on top of it. That would be the record of the century, I believe ... I would love for us all to be in the room at the same time, so we can all get the vibe, instead of having one fly in to do something, and send a track to this one ... It'll be great.
In terms of today's R&B artists, what are your thoughts on their usage of sexually explicit lyrics in comparison to your songs through the years?
It's just the generation. They're just keeping it 100. They're keeping it real the way they know how to do it. And I think they think that they're going to be wimping out if they don't say it how they want to say it. Me, I'm not condoning some of the things that they're saying, but at the same time when [The Gap Band] came through the door, if you said the word "sucka, sucka," you'll be in trouble. [Laughs] Everybody would look at you like you're crazy. It was like a big deal. And then my boy [Johnny Guitar Watson] came with a song called "Ain't That A Bitch." I was like, "Wow, he can say that? And I can't say 'sucka'?" I couldn't believe that Johnny Guitar Watson was allowed to say "Ain't That A Bitch" or the Isley Brothers saying "All this bullshit going down..." I couldn't believe that they were getting away with it, but I couldn't say "sucka." So they were keeping it real. These kids [are] just keeping it real and they're saying what they want to say.
I have been trying to teach this generation by examples of how you can say things and not have to say a lot of explicit things, but then you got some other youngsters that probably be like, "Man, they ain't keeping it real." So what do you do with the ones who don't think you're keeping it real because they haven't grown up yet to be grown men and women yet? They're still teenagers and they're still doing some pretty dumb stuff and they still want to be explicit ... And so if you can just try to inspire people to do things different and some people catch it, some people don't till they get a little older like, "Wow, Uncle Charlie was keeping [it] 100 his way." So that's how I'm doing it.
In your opinion, what are some of your personal principles for standing the test of time as a musician through the years?
Well, it's definitely the passion that I have. I still have a lot of passion for music -- singing and playing and dancing and having a good time. I have been through the wringer. I've been through hell and back. And of course I'm still here. You just have to stay passionate and love what you do. Stay focused and stay away from drugs and alcohol, and just take it one day at a time. And love your craft, and just do your thing. And never give up. I was counted out. If I had a dollar for every time you counted [me] out, I'll be already rich. I would've been a multi, multi-billionaire. [Laughs]
I know some critics will just cut you up, cause that's what they're there for. People like to cut you up and make you look bad, make you turn around and go back home, then they've done their job ... But I've been the guy who withstood the [test of] time and withstood all of the critics. But at the end of the day everybody was like, "Man, Uncle Charlie is a beast on the real tip! And he's not going to go away, because everyone keeps asking him to come back." And that's what I'm good at. When it's time for me to go do what I gotta do, I'm on point.
BEFORE YOU GO
PHOTO GALLERY
Iconic Album Covers