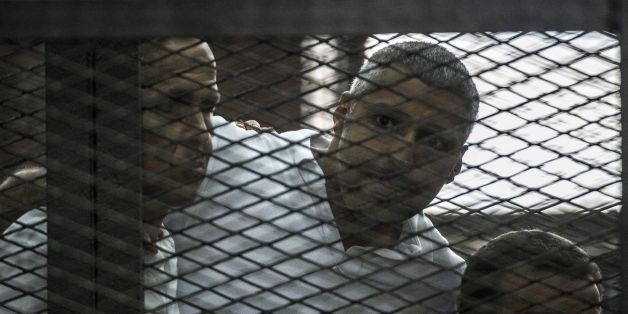 Al Jazeera condemned the conviction of three of its journalists in Egypt on Monday, and
pledged to continue its global campaign to free them.
Mohammed Fahmy, Baher Mohammed and Peter Greste were sentenced to between seven and ten years in prison on terrorism-related charges, in a trial that attracted international outrage and that has been widely seen as both farcical and as an attack on press freedom.
Al Jazeera English managing director Al Anstey issued a statement saying that the conviction "defies logic, sense and any semblance of justice."
He added, "There is only one sensible outcome now. For the verdict to be overturned, and justice to be recognized by Egypt. We must keep our voice loud to call for an end to their detention."
The #FreeAJStaff campaign has triggered protests around the world.
Al Jazeera journalists also spoke up, attacking the verdict and vowing that the journalists would be freed.
Not a shred of evidence has been presented against our excellent journalists #FreeAJStaff #journalismisnotacrime

— Al Anstey (@AlAnsteyAJ) June 23, 2014
7 years for @Repent11 & @PeterGreste 10 for @Bahrooz This is a disaster. #AJTrial @Free_AJ_Staff #Egypt has let everyone down.

— renee odeh (@reneeodeh) June 23, 2014
Evidence in the trial included reports @PeterGreste did in Kenya, music videos and reports form other news networks. #FreeAJStaff

— AJELive (@AJELive) June 23, 2014
dear friends and colleagues @PeterGreste @Repent11 @Bahrooz we will continue to fight. This is not over. #FreeAJStaff #pardon #appeal

— Sarah Lindenberg (@SNLindy) June 23, 2014
A complete perversion of justice - but you should expect nothing less in Sisi's Egypt. Disgraceful #AJTrial

— Tariq Nafi (@TariqNafi) June 23, 2014
Peter, Baher and Mohamed got more than double the jail time of a police officer convicted of shooting people in the eyes.

— Gregg Carlstrom (@glcarlstrom) June 23, 2014