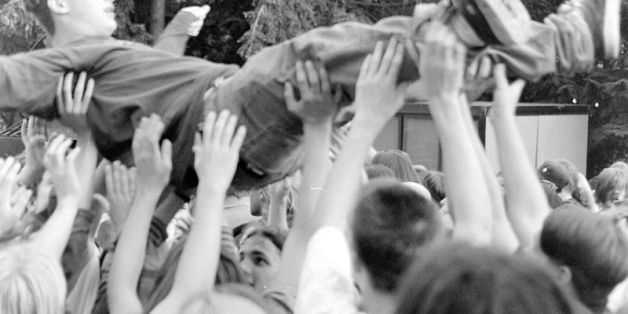 "Punk as f--k" isn't typically how leading theoretical chemists are referred to in the media. But this week, Dr. David Glowacki, a respected American chemist and Royal Society research fellow in London, earned that description after he was kicked out of a classical music concert for attempting to crowd surf during a performance of Handel's "Messiah."
Quoting witnesses, the Telegraph reports that Glowacki was enjoying a performance at the Bristol Old Vic in Bristol, England, and was "so overcome during the 'Hallelujah Chorus' he began lurching from side to side with his hands raised and whooping before attempting to crowd surf."
Tom Morris, the artistic director of the Bristol Old Vic, had previously invited the audience to "clap and whoop" with abandon during the performance. However, Morris admits that Glowacki, currently a visiting professor at Stanford University, was perhaps "over-excited" during the show, the Irish Independent notes.
Audience members reportedly became irritated with the antics and physically removed the scientist from the venue.
"Classical music, trying to seem cool and less stuffy, reeks of some sort of fossilized art form undergoing a midlife crisis," a frustrated Glowacki told the Irish Independent. "Witness what happened to me when I started cheering with a 30-strong chorus shouting 'praise God' two metres from my face: I get physically assaulted, knocked down to the floor and forcibly dragged out by two classical vigilantes."
As news of Glowacki's crowd surfing mishap goes viral this week, the reaction online has been decidedly mixed.
One Gawker reader slammed the academician for acting "like an ass," while others -- including music psychologist Adrian North -- have defended Glowacki's actions and championed the idea that classical music can and should be enjoyed without the usual fuss and decorum.
"Classical music gigs are nothing like as lively as they used to be," North noted in a post on the news and opinion website TheConversation.com. "Fights in the auditorium appeared to be de rigeur in the early years of the 20th century."
As for Morris, he says Glowacki's unceremonious exit from the venue was a "good thing."
"Dr. Glowacki is an eccentric and a genius and only a very few people are likely to react to the music the way he did but it shows it is an environment in which unexpected things can happen," he told the Telegraph.
BEFORE YOU GO
PHOTO GALLERY
Best Photos Of People Dancing