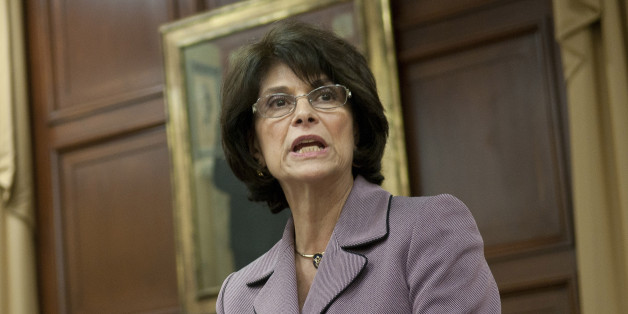 WASHINGTON -- A group of House Democrats announced a bill on Monday that would prevent minors and people with mental disabilities from facing immigration judges alone.
"Under our laws, we give the right to legal counsel to the most dangerous, hardened criminals in America," Rep. Lucille Roybal-Allard (D-Calif.) said at a press conference. "Murderers, drug dealers and gang members are all guaranteed professional legal assistance. Our bill simply gives vulnerable migrant children the same rights to counsel because tragically today, as you have heard, small children facing the prospect of deportation don't have this basic right."
She added, "This is unfair, it is unjust, it is un-American."
Roybal-Allard was joined by Reps. Hakeem Jeffries (D-N.Y.), Judy Chu (D-Calif.) and Karen Bass (D-Calif.) in announcing the proposed Vulnerable Immigrant Voice Act, which would provide lawyers to children and those with mental disabilities during deportation proceedings.
Recent months have seen a surge in the number of unaccompanied minors crossing the U.S.-Mexico border, many of them coming from Guatemala, Honduras and El Salvador. The U.S. government has apprehended 52,000 unaccompanied minors since October and expects a total of at least 90,000 by the end of the fiscal year in September.
Many of these undocumented immigrants might be eligible for relief that allows them to stay in the U.S., such as special immigrant juvenile status, asylum or visas for victims of crime. The Vera Institute of Justice, a nonpartisan group, said in a 2012 report that 40 percent of such unaccompanied minors admitted into government custody were potentially eligible for some type of immigration relief.
But undocumented immigrants, unlike criminal defendants, are not given legal representation to work through the deportation process. Advocates argue that many who should receive relief instead fall through the cracks. They point out that children and people with mental disabilities are particularly vulnerable in this situation and that many will not be able to obtain counsel to help them seek asylum or other ways to avoid returning to the countries they fled.
The Justice Department launched a program earlier this month to send 100 lawyers and paralegals to provide legal services to unaccompanied minors in immigration custody, but 100 people are not enough to help all the children who need aid. The Obama administration announced last week that it would send more immigration judges and officers to the border to move cases more quickly, but the plan does not guarantee counsel for unaccompanied minors.
The lawmakers on Monday did not have an estimate for the cost of providing legal services, but said their bill would likely pay for itself through savings from shorter hearings and less time in detention. It currently costs about $160 per person per day to keep immigrants in detention.
Rep. Jeffries was asked why the U.S. should spend more resources on undocumented immigrant children when funding is needed for juveniles in the criminal justice system and children in family court cases. He said that he supports better representation for minors in those circumstances as well, but that the government must address the crisis along the border.
"This is an emergency situation that we face. It requires an emergency response," Jeffries said. "We've got a humanitarian crisis that we confront right now, and it requires a forceful response."
He also responded to the argument from conservatives that providing more services to unaccompanied minors and allowing them to stay in the U.S. will simply encourage more to cross the border in the future. Jeffries rejected the idea that children are coming here illegally because of President Barack Obama's immigration policies and said it is because of the violence they face at home.
"This is not a pull from the United States," he said. "It's a push out from these very dangerous Central American countries."
BEFORE YOU GO
PHOTO GALLERY
Why Latin Americans Really Come To The U.S.