There's something curious about taking a road trip to a place you've seen time and again in your favorite movies and on TV shows. The first thing you experience is the uncanny feeling of already having been there: you feel like you've seen that cafe, been in that house, eaten at that restaurant. The second thing you inevitably experience is the compulsion to point out everything that's slightly different from what you already "know" -- but that's part of the fun.
Since summer is all about embracing the novel and unexpected, we've partnered with the Hopper by DISH -- which gives you the power to transfer your favorite recorded movies and shows to watch on any device while on the road -- to show you how to visit your favorite places from the small and silver screens. Whether you're a "Seinfeld" buff or a "Field of Dreams" fanatic, we'll let you know how the "real thing" stacks up.
Bridges Restaurant from "Mrs. Doubtfire"(1993)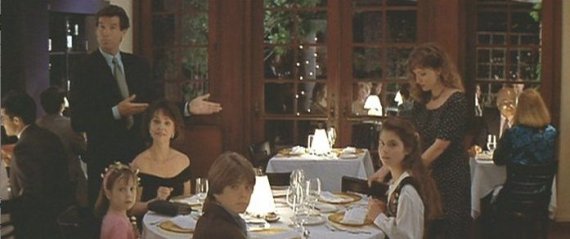 Image:Film In America.
IRL Name: Bridges Restaurant and Bar
Who hangs out there? This is where Robin Williams' Mrs. Doubtfire (nee Daniel Hillard) has double-booked herself (himself) for both a business meeting and her employer's (his wife's) birthday dinner with new beau Stu and children Lydia, Chris and Natalie. Things quickly fall apart when Daniel's plot to sabotage Stu results in a big reveal: He's been Mrs. Doubtfire "the whole time! the whole time! the whole time?!" Kudos to Sally Field for this super-memorable scene.
Can I actually visit? You absolutely can! Bridges Restaurant and Bar is located in Danville, Calif., where Chef Kevin Gin serves seasonal New American cuisine. You might want to hold the extra cayenne pepper.
Authenticity score: 9 for being faithful to the name and serving great-looking food. Minus one because Robin Williams and Sally Field will probably not be there.
The McCallister household from "Home Alone"(1990)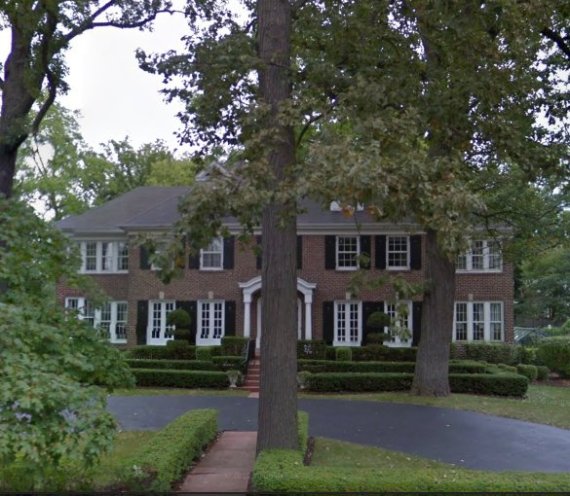 Image: Google Street View
IRL Name: 671 Lincoln Avenue, Winnetka, Ill.
Who hangs out there? The whole McCallister clan. And the "Wet Bandits," of course.
Can I actually visit? Sure, you can drive by the exterior next time you're in Winnetka, but the house was sold in 2012 for a cool $1.5 million. We would consider paying that much for the privilege of sledding down the staircase.
Authenticity score: 8. The brick exterior looks exactly as we left it in 1990. The interior lacks the overdone holiday decor from the movie, but the most iconic elements -- the kitchen, the main staircase, basement and much of the first-floor landing -- are more or less in place.
Monk's Cafe from "Seinfeld" (1989-1998)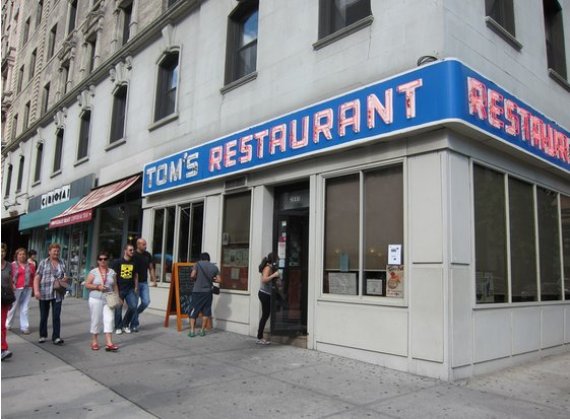 Image: Google Street View
IRL Name: Tom's Restaurant
Who hangs out there? Jerry, Elaine, George and Kramer
Can I actually visit? Yep, and you can buy memorabilia, but the interior and menu have little to do with the show. It's located at 2880 Broadway in Manhattan's Morningside Heights neighborhood.
Authenticity score: 5. The exterior still evokes strong feelings of nostalgia -- and that unforgettable, bouncy bassline -- but the interior is completely different.
Escupimos en su Alimento ("We Spit In Your Food") from "Anchorman" (2004)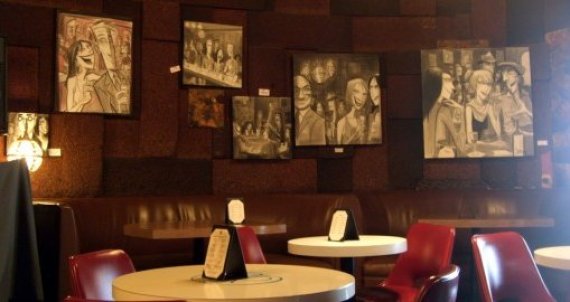 IRL Name: The Dresden
Who hangs out there? The dashing Ron Burgundy, his jazz flute and his lovely date, Veronica Corningstone. This legendary Los Angeles restaurant has also appeared in "Swingers" and "That Thing You Do."
Can I actually visit? Sure, you can. It's in Los Feliz.
Authenticity score: 7. They don't serve Mexican food as in "Anchorman," and we have yet to hear of any recent jazz flute performances, but the interior looks very similar and the ambiance is pure Hollywood.
The Danbury Hotel from "Dumb and Dumber"(1994)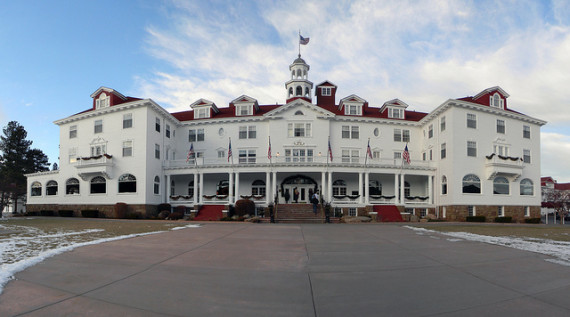 Image: Brett Levin via Flickr
IRL Name: The Stanley Hotel
Who hangs out there? Lloyd Christmas (Jim Carrey) and Harry Dunne (Jeff Daniels), flush with the bundles of cash they've accidentally found in Mary's suitcase. You may also remember this luxury hotel for its role in "The Shining." Also, it's haunted, so you might run into a few ghosts.
Can I actually visit? Yes, it's in Estes Park, Colo. The 140-room hotel has been around since 1909 and boasts panoramic views of the Rockies. It's only 6 miles from Rocky Mountain National Park, an hour from downtown Denver, and, as the website says, "7,500 feet above the ordinary."
Authenticity score: We give it an 8. Minus two because (1) it does not come with a Lambo and cool cowboy outfits and (2) we are assuming and hoping it is free of zany kidnappers (and ghosts).
Cheers from "Cheers"(1982-1993)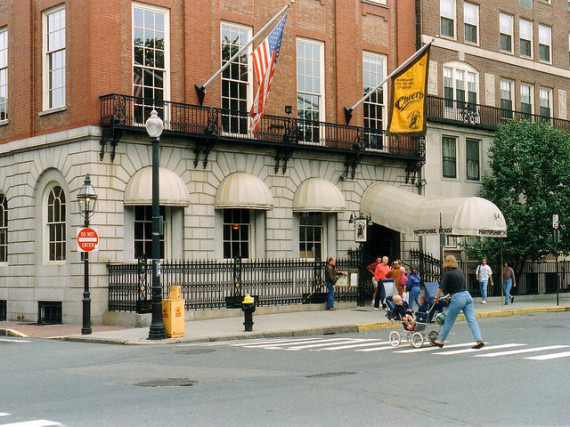 Image: Peter Broster via Flicker
IRL Name: Cheers, formerly known as the Bull & Finch Pub (1969-2002)
Who hangs out there? Sam and Diane, Coach, Carla, Norm and Cliff.
Can I actually visit? Well ... sort of. The title sequence indeed shows the exterior of the real Bull & Finch, which has been a fixture in the Beacon Hill neighborhood of Boston since 1969. But the interior you see on the sitcom is, alas, a translation of the real bar's interior to a set in -- where else? -- a lot in Los Angeles. In 2002, a second location with a faithfully reproduced layout opened in Fanueil Hall, Boston's downtown tourist hub. The Bull & Finch was officially rebranded as Cheers Beacon Hill in 2002.
Authenticity score: 4. The ambiance reads more like a theme restaurant than a bar in the spirit of the original.
Katz's Delicatessen in "When Harry Met Sally"(1989)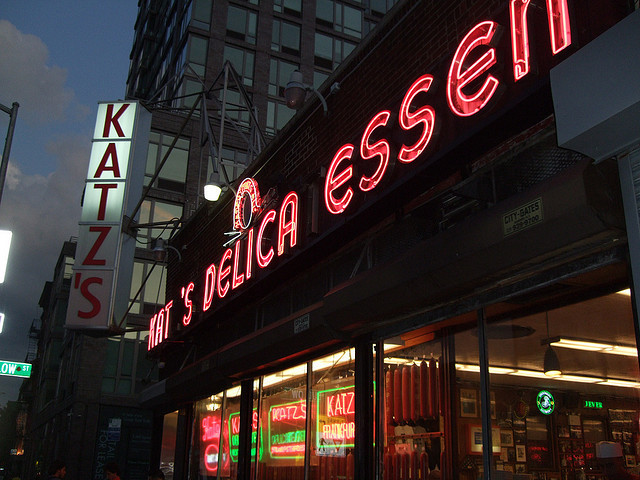 Image: Kim via Flickr
IRL Name: Katz's Delicatessen
Who hangs out there? Harry, Sally. You know the scene.
Can I actually visit? Yes, and we strongly encourage it. It's on 205 E. Houston Street on Manhattan's Lower East Side. We recommend the pastrami. It's worth the wait (and the price).
Authenticity score: 10. The scene is a bit more chaotic than in the film, we admit, but the iconic neon sign and delicious food remain. You just might find yourself surrounded by people so enamored with their sandwiches that you'll be compelled to make that famous remark: "I'll have what she's having."
The Double R Diner in "Twin Peaks"(1990-1991)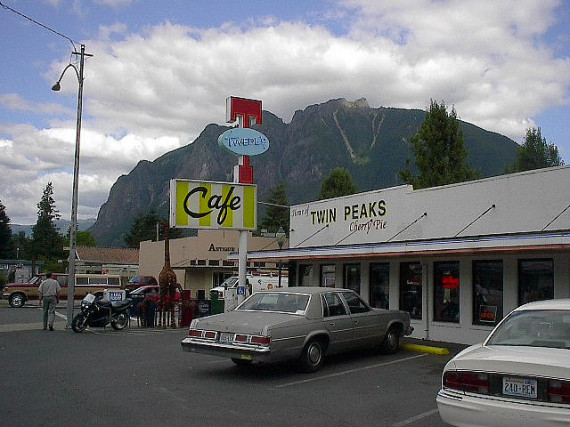 Photo: Nonsequiturlass via Flickr
IRL Name: Twede's Cafe
Who hangs out there? Owner Norma Jennings, her waitstaff, and of course, Agent Dale Cooper.
Can I actually visit? Yes, it's in Snoqualmie in Washington State, where much of the show was filmed.
Authenticity score: 7. The show was shot in the real diner, and the exterior still rings true. The interior was remodeled following a fire in 2000, but you can still order a nice slice of cherry pie and a "damn fine" cup of coffee.
The field from "Field of Dreams"(1989)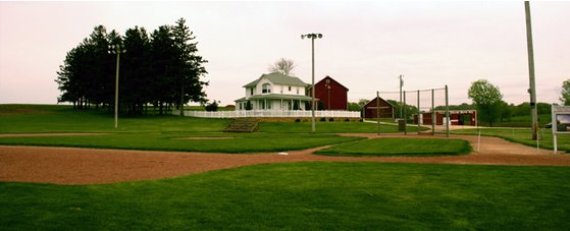 IRL Name: The Field of Dreams
Who hangs out there? Ray and Annie Kinsella, the ghost of Shoeless Joe Jackson, and, very memorably, James Earl Jones' Terence Mann.
Can I actually visit? Yes, it's in Dyersville, Iowa. You can take a scenic drive, visit the souvenir shop and even play ball if you want.
Authenticity score: 8. It's not quite heaven, but it's where the movie was filmed and it remains a beautiful field placed in the middle of a cornfield. It was sold by owners Don and Becky Lansing in 2011 to Go the Distance Baseball LLC, which hopes to develop the site into a baseball and softball complex. You know what they say: If you build it, they will come.
With the Hopper from DISH, you can transfer recorded TV to your mobile device, so you can watch your favorite movies and shows on the road, even without an internet connection.