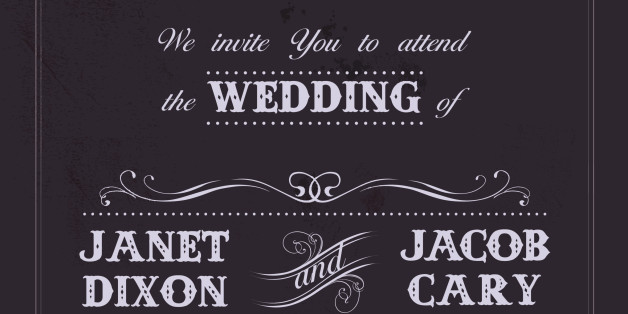 The rules of wedding etiquette are constantly changing, making it difficult for modern brides, grooms and guests to find up-to-date and correct information. That's why we launched #MannersMondays, a weekly series in which we ask our followers on Twitter and Facebook to submit their most burning etiquette-related questions. Then, with the help of our team of etiquette experts, we get you the right answers to your biggest Big Day dilemmas. Check out this week's question below!
@HuffPostWedding when asking guests to RSVP, do you include postage for the return envelope? I received an invite w/o one. #MannersMondays

— FMrsM (@abiwonkenobi) August 20, 2013
Anna Post -- great-great-granddaughter of etiquette guru Emily Post and author of Emily Post's Wedding Etiquette -- is here to help us answer this week's question. Find out what she had to say below:
Having just mailed my own wedding invitations on Friday, I thought this was an appropriate question to tackle today. Yes, the RSVP card return envelope should have postage on it. It's not that conferring the expense of a 49-cent stamp on guests is likely to be a big deal. It's more about convenience, and the idea that the hosts are fully taking care of their guest. There's also a more practical reason. Guest RSVPs, especially for weddings, are notoriously late in arriving, or absent altogether. It's one of the biggest complaints I hear from brides and grooms as they plan their weddings. A reply envelope with (correct) postage is one small step that will help the hosts get what they want: a timely reply.

In fact, the entire idea of a reply card exists today because guests got so lax about sending a reply on their own stationery or note cards (how it was originally done) that hosts took to including the RSVP cards a generation or two ago to "helpfully prompt" guests to do what they should have done anyway—send a reply. Including a stamp completes the gesture.

When planning to mail invitations, start checking your local post office a few weeks in advance to see what stamps they have on hand. Not all stamps are available or in stock at every post office, as I found out early last week when I began assembling my own invitations for mailing. I was on the hunt for those pretty vintage seed packet stamps, and they seemed to be sold out everywhere. Luckily, I was able to order what I needed online in time, instead.

If you do receive a reply envelope without a stamp, don't bother bringing it up with the couple or hosts. Chalk it up to an innocent mistake and head to the post office to send your reply before the due date.
You can submit your wedding etiquette questions via Facebook or tweet them to us @HuffPostWedding with the hashtag #MannersMondays.

BEFORE YOU GO
PHOTO GALLERY
Patterned Invitations That Pop