At Google's annual developers conference on Wednesday, the company spent hours talking up various new thingamajigs. But perhaps the most striking thingamajig of them all was this cardboard contraption Google wants you to wear on your face.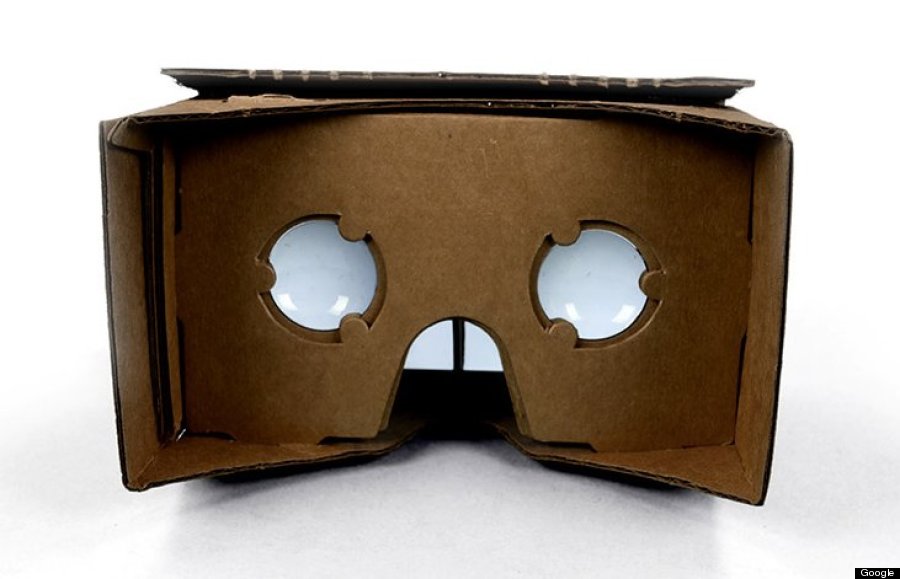 The contraption, which Google is calling Cardboard, is meant to turn your Android smartphone into a "no-frills" virtual-reality headset. Is this one of Google's very elaborate pranks? Maybe. But Google at the very least handed out kits to make Cardboard to some lucky developers on Wednesday. There's even an official Google page and Google Play app for it.
GIF via Engadget
Even if Cardboard works as advertised, it clearly still is more PR push than mass-appeal product. Like a Google Doodle, it's the fun sort of project the company occasionally undertakes to bolster its cool factor.
Google also posted online instructions on how to make the headset yourself. But that requires buying cardboard, magnets, Velcro and lenses and then cutting the cardboard like so: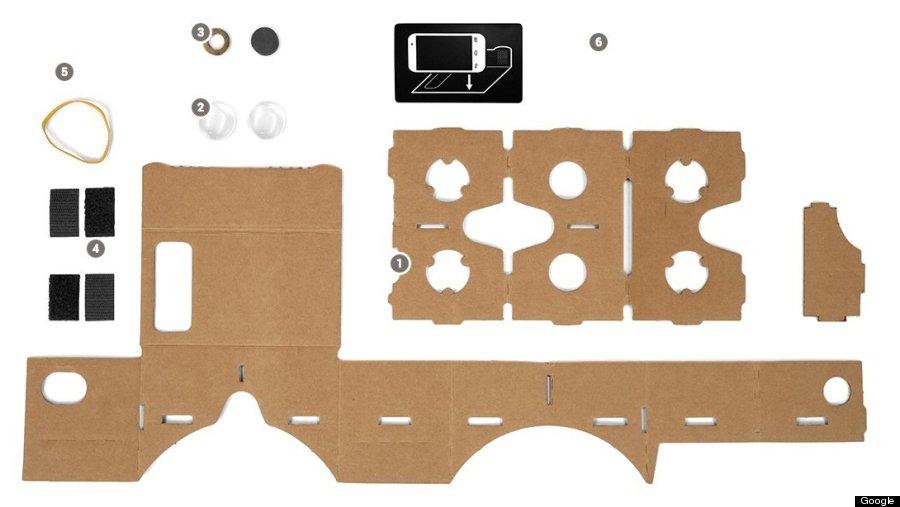 Call us incredulous, but we don't think this is a weekend DIY project most people will complete. Also, we can't figure out if you can order the ready-made cardboard cutouts online, which raises some eyebrows.
Why would you want to literally strap a phone to your face? Google has a few app ideas:
"Earth: Fly where your fancy takes you on Google Earth."
"Tour Guide: Visit Versailles with a local guide."
"YouTube: Watch popular YouTube videos on a massive screen."
"Exhibit: Examine cultural artifacts from every angle."
"Photo Sphere: Look around the photo spheres you've captured."
"Street Vue: Drive through Paris on a summer day."
"Windy Day: Follow the story (and the hat) in this interactive animated short from Spotlight Stories."
Google said that two employees working in Paris, David Coz and Damien Henry, came up with the idea for Cardboard as part of the company's famed "20 percent time" program, in which workers are encouraged to take a fifth of their time at work to explore their own ideas.
While it's likely that, yes, Google isn't serious about convincing the masses to adopt Cardboard, serious Silicon Valley money is being thrown at virtual reality tech. In March, Facebook bought the maker of the VR-headset Oculus Rift for $2 billion. So it'll be no surprise to see Google eventually wade into the virtual waters seriously someday, too.