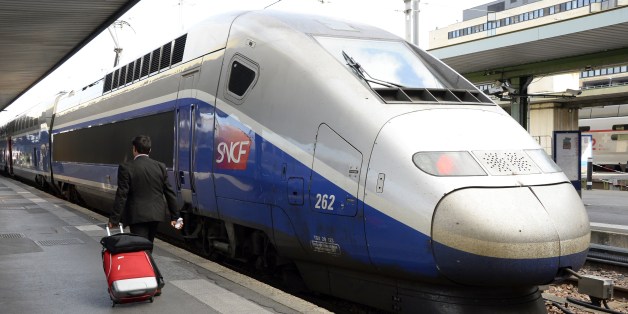 By Rory Carroll
SAN FRANCISCO, June 24 (Reuters) - A California environmental group has filed a lawsuit challenging the state's plan to spend a portion of the money raised through its cap and trade program on an ambitious high-speed rail project, saying its construction will increase carbon emissions and exacerbate climate change.
The Transportation Solutions Defense and Education Fund (TRANSDEF) lawsuit, filed on Monday in Fresno County Superior Court, targets the California Air Resources Board, which oversees the cap and trade program and which backed a plan to use the funds for the controversial project.
The lawsuit argues that funding the project runs afoul of state law, which requires money raised from the sale of carbon emissions permits to be spent on projects that further drive down the state's output of heat-trapping greenhouse gases.
Governor Jerry Brown's recently signed budget directs $250 million raised by the state's quarterly carbon permit auctions to go toward the $68 billion bullet train project with more money expected to be directed to it in future years.
"The huge spike in cement production needed to build all the viaducts and trackways for the governor's high-speed rail line will result in greenhouse gas emissions far outstripping any potential benefit from the line," said Stuart Flashman, an attorney for San Francisco-based TRANSDEF.
The project, a priority of the Brown administration that is opposed by Republicans, will by 2029 run trains capable of topping 200 miles per hour from San Francisco to the Los Angeles basin. The system will eventually extend to Sacramento and San Diego, totaling 800 miles with up to 24 stations, according to project planners.
The California Air Resources Board on Tuesday said the high-speed rail system is a key component to California's plans to slash emissions from the transportation sector, the largest single source of carbon emissions in car-loving California.
"Not only will it be constructed with net-zero emissions, but it will dramatically reduce car miles traveled in the state," said Stanley Young, a spokesman for the ARB.
"Its contribution to California's overall effort to fight climate change was affirmed by the legislature when it passed the budget recently with funding for high-speed rail from cap and trade proceeds," he said. (Reporting by Rory Carroll; Editing by Eric Walsh)
BEFORE YOU GO
PHOTO GALLERY
10 Hot Green Innovations