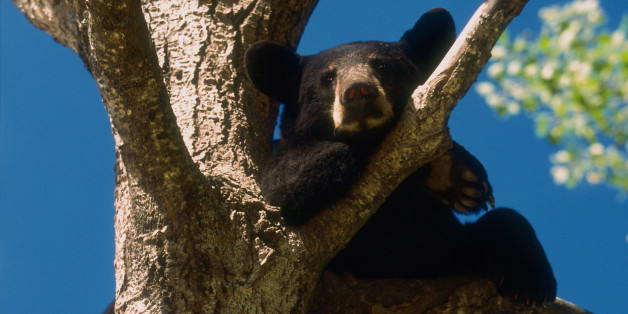 This bear definitely has a sweet tooth.
A bear crashed a boy's birthday party in Alaska recently and helped himself to some treats. Homeowners said that the black bear fell through the skylight before festivities kicked off Saturday, Juneau Empire reports.
"I was literally in the room, and I heard this cracking," Glenn Merrill, father of 1-year-old Jackson, told the publication. "And the next thing you know, there's this bear that, I mean, literally, fell right from (the skylight). It was like three feet away from me."
As everyone made a mad dash for adjoining rooms, the bear went straight for the cupcakes on the living room table, devouring them all. The family was eventually able to usher the bear out of the house. But the peckish animal didn't want to leave just yet. The bear reportedly stuck around and peered in at the party through a window on the back porch.
Local wildlife officers believe the animal may be the same bear who broke into another property shortly after the cupcake-eating incident Saturday. That bear intruder was killed by Juneau officers after it repeatedly tried to enter the house.
"We don't take killing or destroying bears lightly," Ryan Scott of the Alaska Department of Fish and Game told Reuters. "People were inside that building. I think it was appropriate for that given the situation."
It's not the first time a nosy bear has crashed a party. Last year, partygoers in Florida greeted a furry friend after it burst through a fence into a toddler's birthday bash. In another incident, several black bear cubs invited themselves to a backyard barbecue in Connecticut.
BEFORE YOU GO
PHOTO GALLERY
Animals In The News