German Photographer Nina Röder has imagined a beautiful way to pay homage to the strong matriarchal bonds in her family.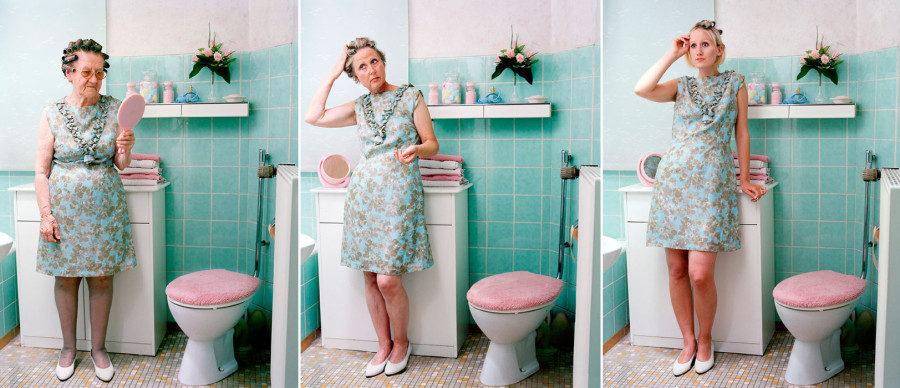 The concept is simple: three women of three different generations don the same clothing, posing amongst eerily familiar bathroom tiles and ornate furniture. The models are Röder, her mother and her grandmother, and the setting of the series, "Mutters Schuhe (Mother's Shoes)," is Röder's childhood home. From daughter to grandma, the images create a visual continuum across the years.
As the title suggest, the series centers on the artist's mother, a hairdresser and Bavaria native whose personal experiences and memories became the pinpoints for the photographs. "I wanted to tell something about my mother's memories in her youth, because I wanted to get to know my mother better and maybe I wanted to learn indirectly more about myself," Röder explained to HuffPost. "I wanted to see her not only as my mother –- but as a woman who had a life before me. A life full of hopes, first loves, dreams and ideas."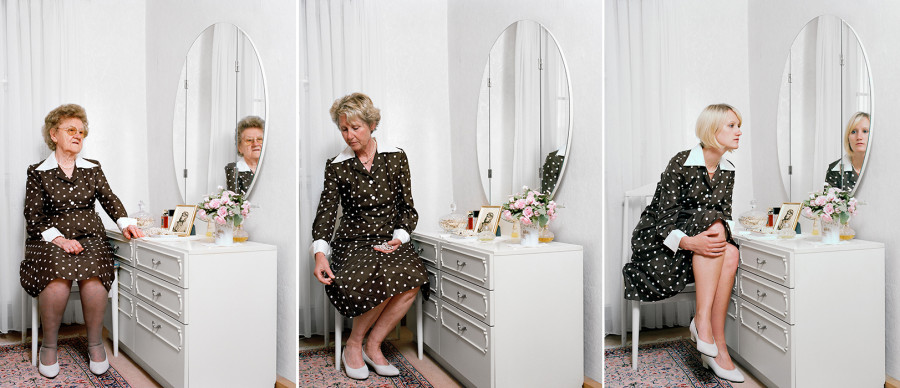 The clothes in the photos belonged, at one time or another, to Röder's mother, and the series' poses and props stem from recollections of her past. A bouquet of carnations harkens back to a terrible prom date, while a vanity table brings about memories of first experimentations with dress-up. Spanning the facial expressions of daughter to grandmother, each memory is filtered through the other women, as they model the dresses and stare into the shared mirrors. Perceptions of the past changes ever so slightly from frame to frame.
Overall, "Mutters Schuhe" is a nostalgic tribute to female lineage that oozes with love and respect for the bonds that tie women of one family together. "The personal narrative of my mother and my grandmother effects my life in a very dominant way," Röder said to Feature Shoot. "Almost every artwork I've done so far is influenced by conscious or unconscious aspects of family stories."