Elizabeth Taylor once said: "A girl can always have more diamonds." And we couldn't agree more.
The legendary actress was known, amongst other amazing things, for her mind-blowing collection of diamond jewelry, and, she also offered that sense of luxury to the masses via her signature fragrance White Diamonds. Although you might associate the perfume with your mother or grandmother, the best-selling product is being revived with a new scent, White Diamonds Lustre, and a new ambassador, Nia Long.
While Taylor will forever be the face of White Diamonds, we're thrilled that Long has been tapped to introduce the new fragrance to the world. The "Best Man Holiday" star is certainly someone we look to for fashion and beauty inspiration.
We were lucky enough to chat with Long about this new partnership, her beauty regimen and her recent decision to embrace her natural hair. Check it out...
How does this new White Diamonds fragrance make you feel?
Like a lady. Like a sexy, strong lady. Not a girl. Like a woman. Like we should be having tea and talking about ways to empower one another. It's contemporary yet classic and I think that's really nice to find in a scent.
You mentioned that you're transitioning to natural hair. How has that journey been?
As you know, I wore my hair short for years. When I wore my hair short I always had a relaxer, because it's kind of necessary. I have a lovely texture of hair -- it's coarse and heavy but it still has a little wave to it. So reacquainting myself with my natural hair has been a love-hate relationship at times. I felt like I have to plan my hair appointments around my workouts, which I think most black women feel that way. So I've just decided to embrace whatever it is every morning and have some fun and play with it. But what I do love about having my natural hair is that I feel like it's alive. You really get the freedom to play around with your hair.
Any go-to products?
I love the line Moroccan Oil. I also love to use fresh coconut oil on my hair. I find that when I use Pravana's hair mask and I leave it in overnight my hair is like silk the next day. I've also gone back to getting roller sets, because it's just less heat on my hair.
We know you have a 14-year-old son, but since giving birth to your son Kez just two years ago, how has your beauty regimen changed?
As you get older you start to see your problem areas and go 'Ok, I need to work on this.' I think for me it's about hitting the neck area. So many times we're focused on just our face, but I think as you get older making sure you incorporate your neck. Also getting proper massages, getting the collagen going and taking your vitamins help with maintaining healthy looking skin. And remember to always stay hydrated!
Who are your beauty icons -- past or present?
I think that J.Lo always gets it right! I mean, Jenny from the block is just my girl. Know what it is -- she's not trying to be anything but herself. I was watching her in a recent interview talking about as we age, mature and explore various things in life -- whether it's love, money, success, film, television -- we're still who we are at the core. She in my opinion is a classic beauty. I also look to a woman like Cecily Tyson, who was a single mother and a chocolate sista during a time when it wasn't popular-- and how she's regal and smart and sassy and an amazing actress all at the same time. And she did wear her hair natural and she wasn't afraid to be that dark-skinned black woman who had something to say.
This interview has been edited and condensed.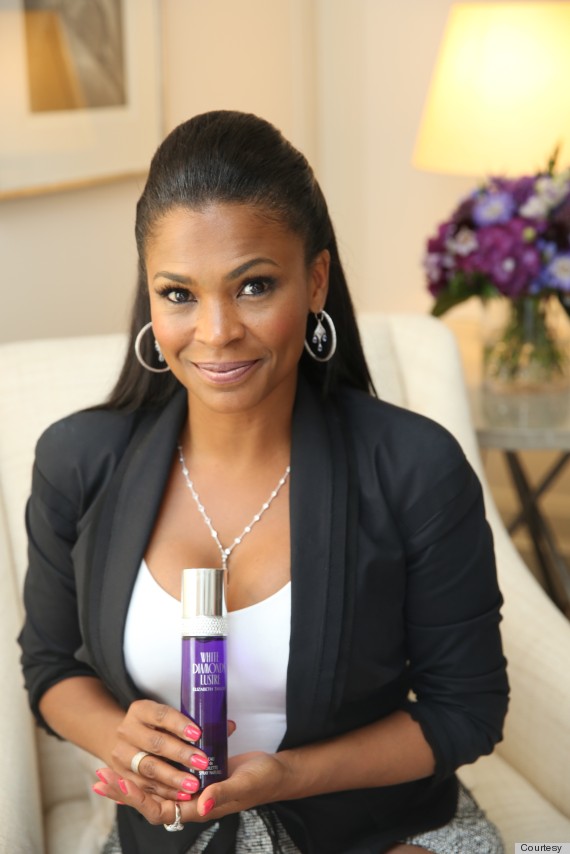 BEFORE YOU GO