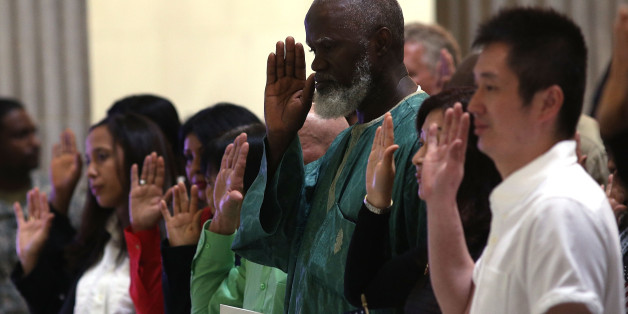 WASHINGTON -- The AFL-CIO is teaming up with local immigration reform and labor groups this weekend to encourage green card holders to apply to be citizens, partly in the hope that getting more immigrants to the polls will help move immigration reform forward.
At a workshop in Washington, D.C., lawyers and volunteers will give legal residents information about how to apply for citizenship, encourage them to do so, answer questions and help them fill out paperwork. The workshop is for legal permanent residents who are eligible for citizenship, and for young undocumented immigrants who came to the U.S. as children and hope for relief under the Deferred Action for Childhood Arrivals policy. Immigrant rights group CASA de Maryland, the Laborers' International Union of North America and other organizations are also participating.
In general, green card holders can begin the application process for citizenship after five years of permanent residency in the U.S. But not all who are eligible apply, meaning they cannot vote, and could be deported in certain circumstances. As of 2012, there were an estimated 13.3 million legal permanent residents in the U.S., and 8.8 million were eligible to apply for citizenship, according to a report from the Department of Homeland Security.
AFL-CIO executive vice president Tefere Gebre, a naturalized citizen himself, said the group hopes to educate immigrants about the benefits of being citizens. He moved to the U.S. from Ethiopia 30 years ago.
"Sometimes it's a tough thing for immigrants to decide to disavow the country that you were born in," he said. "It's a difficult decision to do, but all of us came here because we chose this country. On election day, when I go to a polling place, that's the most I feel an American."
The AFL-CIO has been part of a coalition of groups pushing for comprehensive immigration reform, which has languished in the House of Representatives after passing the Senate one year ago. Getting more immigrants -- who may be more sympathetic to the plight of undocumented immigrants, among other issues -- to become citizens and vote could help in that goal, Gebre said.
"We're going to get immigration reform down the road ... but if this Congress is not going to do it, we have to get a Congress that will do it," he said. "And that will be decided at the ballot box."
BEFORE YOU GO
PHOTO GALLERY
Why Latin Americans Really Come To The U.S.