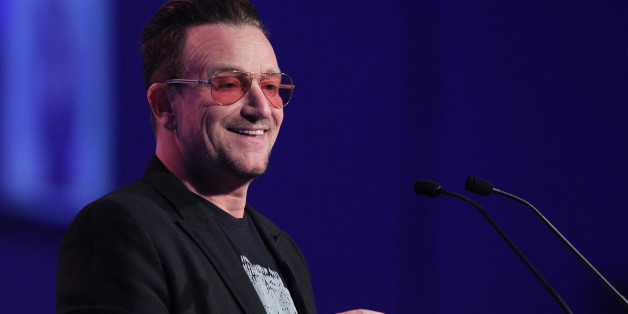 Bono has a playfully antagonistic relationship with his friends at Apple.
The tech giant has raised an incredible amount for AIDS research, but, if you ask the U2 frontman, not enough people know about the success. Jony Ive, Apple's senior vice president of design, who is friends with Bono, apparently needs to speak up on the matter.
"One of the reasons it's such a credit to have Jony Ive on the stage is because Apple is so f*****g annoyingly quiet about the fact they've raised $75 million," the singer said at the Cannes Lions International Festival of Creativity in France earlier this week, according to Adweek. Bono noted lightheartedly that while Apple has been a champion in the fight against AIDS, Steve Jobs refused to put the singer's signature (Red) campaign branding in any Apple stores. "This is the Apple way. They're like a religious cult."
Bono used the global advertising event as a platform to engage marketers on (Red) and how they can integrate the cause into their business strategies. The (Red) campaign's Global Fund has raised about $250 million in disbursing resources to prevent and treat HIV and AIDS, tuberculosis and malaria in underserved regions of the world.
A vital part of the (Red) mission is to eradicate the transmission of HIV from mother to baby by 2015. While that goal may seem unattainable, significant strides have been made in areas of the world with disproportionate levels of HIV infection. When expecting mothers adhere to medical interventions to prevent transmission, the rate of conveyance can drop to just 5 percent, according to the World Health Organization.
Bono also accepted the Cannes LionHeart award at the event, which recognizes a person or organization that "has made a significant and positive difference to people or the planet," according to USA Today. But he wasn't there solely to praise Apple and receive a round of applause. He was looking for business partners, too.
"The people in this room could really figure this sh*t out," an unfiltered Bono told the crowd of marketers, Adweek reported.
The rock star encouraged brands to include the (Red) logo on upcoming products, and began taking ideas to further AIDS awareness from audience members. And the crowd of creative attendees didn't hold back -- one person suggested marathon runners around the world stop right before crossing the finish line "to call attention for governments and not finish their marathons until we raise the money we need."
The musician was well-aware of the goldmine of innovative thinkers before him.
"This is the most important room for (Red) to ever be in," Bono told the room, according to USA Today.
If you'd like to join the fight against AIDS, visit (Red)'s website.
BEFORE YOU GO
PHOTO GALLERY
Bono looking smug