 The 2014 NBA draft wrapped up last night, and this year's players may just be the most talented group since the LeBron, Wade and Carmelo class nearly a decade ago. But this year is not without its question marks: Will Andrew Wiggins become the next Kevin Durant? Is Joel Embiid the next Olajuwon or the next Oden? And who is the big second-round steal?
It may be just a tad early, but let's take a look at the winners and losers of Thursday's 2014 NBA draft.
Winners
Philadelphia 76ers
Maybe tanking was the right move after all. Philly not only gets a potential superstar with the third pick in Embiid, but also nabs the best player out of Europe in Croatian power forward Dario Saric, a fantastic talent who can really score. Then, Philly gets the draft's premier wing defender in Clemson's K.J. McDaniels, the ACC Defensive Player of the Year who can guard three positions. I would have loved to see them keep Elfrid Payton, but to get a future first-rounder makes sense. It's also smart to pair Embiid with Nerlens Noel, giving the 76ers two highly athletic bigs who can play together.
Shabazz Napier
Napier isn't merely liked by LeBron James; Pat Riley is apparently a fan as well. Miami getting Napier from Charlotte once again shows us the ineptitude of Michael Jordan, but it is also a victory for Napier. He is a proven winner who will have a chip on his shoulder for going No. 24. Moreover, if LeBron does remain in Miami, Napier will have the perfect running mate who will appreciate his remarkable playmaking ability.
Denver Nuggets
What a day for the Nuggets: Before the draft even started, they went out and got Arron Afflalo from Orlando and then nabbed former Michigan State star Gary Harris. Harris, still just 19 years old, is an instant offense guy and a true combo guard who could wind up being one of the real steals of this entire draft.
Utah Jazz Utah gets two big time talents in Aussie point guard Dante Exum (above) and Duke standout Rodney Hood. The duo is a huge boon for a team that suddenly looks pretty decent, with second-year point guard Trey Burke and the developing Enes Kanter and Derrick Favors. The beauty of Exum is that at 6-foot-6, he can legitimately play off the ball while sharing the ball handling and facilitating duties with Burke. Hood, as you learned, is as humble as he is versatile, and that is saying something for a 6-foot-8 kid who shoots 42 percent from 3.
Doug McDermott
College basketball's best player gets picked 11th and winds up with a Chicago team that clearly targeted him as its guy. The Bulls are in desperate need of an offensive infusion, and McDermott, who averaged 27 points per game last year, is just that. We can point to his defensive limitations, but this is the one system in the league where that shortcoming can be hidden enough to maximize his rare scoring prowess. Plus, he is a four-year college guy who will play right away. Overall, a huge night for McDermott.
Orlando Magic
Orlando gets two major upside picks in forward Aaron Gordon and point guard Elfrid Payton, one of the real gems of this class. Both are terrific athletes, especially Gordon, who tested off the charts at the pre-draft Chicago combine and will fly down the floor alongside Victor Oladipo. Payton, despite the small-school pedigree (Louisiana-Lafayette), is a dark horse Rookie of the Year candidate who can really go.
Boston Celtics
I'm not a huge Marcus Smart guy, but to get him at six has real value, and then to get Kentucky swingman James Young at 17 is impressive. Both have legit All-Star ability, and Young -- who parlayed an excellent NCAA Tournament into going in the top 20 -- may become a left-handed Paul Pierce type of player in time. He can score the ball in spades and has the massive 6-foot-8 frame to go along with it.
Los Angeles Lakers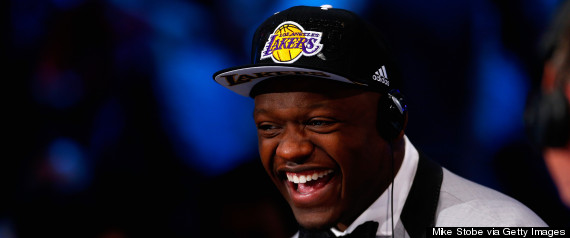 Every single frontcourt player for LA enters free agency, including Pau Gasol, and GM Mitch Kupchak snagged power forward Julius Randle with the seventh pick. The 19-year-old Randle -- who will endear himself to fans by talking a big game -- might be the most NBA-ready player in this draft not named Jabari Parker, and he has both the upside and the floor to go along with. The Lakers also got Mizzou combo guard Jordan Clarkson at 46, another name to watch because of his offensive versatility.
San Antonio Spurs
Kyle Anderson may one day morph into a better version of Boris Diaw, so maybe it's only fitting that coach Gregg Popovich takes him 30th overall. The Spurs will find a way to mask Anderson's athletic limitations while exercising his dynamic skill set at 6-foot-8.
Losers
Nik Stauskas
This outcome was just a really strange fit for one of my favorite players in the entire draft. Stauskas heads to a Sacramento team that just last year took former Kansas wing Ben McLemore. Stauskas is a better, far more polished version, but this remains a team without a true point guard, which now has two 6-foot-6 shooters who need the ball to be effective.
Minnesota Timberwolves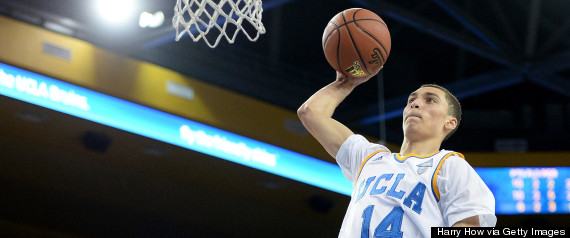 Another draft where the Wolves blew a real opportunity. Zach LaVine is as green as a ninja turtle and a project that this team simply doesn't have the time to wait on. Right now, LaVine is merely a superior athlete who can make 3s, but not much else. His shot selection and defensive breakdowns will become a serious issue, as will Glenn Robinson II, Minnesota's second-round pick. Robinson is another project who is light-years away from becoming a legitimate NBA player.
New Orleans Pelicans
New Orleans could have had the 10th pick if not for the Jrue Holiday deal one year ago. The Pelicans need to add help around Anthony Davis -- and with the talent on the board at 10, it would have been the perfect time to do so.
Noah Vonleh
Vonleh would have been a top three pick in most drafts, but instead slides to Charlotte at nine. Now, he will have to play alongside last year's lottery pick Cody Zeller, another former Indiana star. Vonleh is a big-time talent who could become a star. However, he remains very raw, and Charlotte has a way of not developing guys.
Toronto Raptors
This was not the draft to swing for the fences at 20, but GM Masai Ujiri did just that, selecting Brazilian forward Bruno Caboclo. Caboclo is another major talent with real upside, who remains light-years away from developing into an NBA player. Frankly, Toronto doesn't have the time to wait.
Email me at jordan.schultz@huffingtonpost.com or ask me questions about anything sports-related at @Schultz_Report and follow me on Instagram @Schultz_Report. Also, be sure and catch my NBC Sports Radio show, Kup and Schultz, which airs Sunday mornings from 9-12 ET, right here.