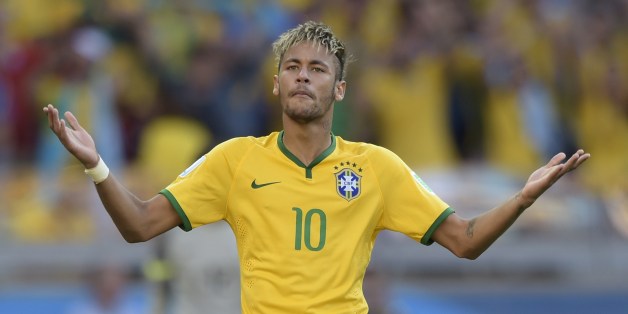 It wasn't easy. It wasn't convincing. But it was just enough.
Brazil is still alive at the 2014 World Cup after edging Chile in a penalty shootout in a tense Round of 16 match at Estadio Mineirao in Belo Horizonte. Neymar scored the decisive kick as Brazil prevailed 3-2 on penalties but the true hero for the Selecao on Saturday was goalkeeper Julio Cesar, who saved two spot kicks. A diving Cesar could not get his hands to final attempt from Chile but was aided by the goal post as Gonzalo Jara's kick from the penalty spot bounced off the woodwork to send Brazil into the quarterfinals.
Before #COLvsURU begins, watch the entire #BRA #CHI penalty shootout. »
http://t.co/8JAWgDdezD

— ESPN FC (@ESPNFC) June 28, 2014
The tense clash between these South American rivals remained deadlocked 1-1 after regulation play and the score held through extra time. Just moments before the game went to penalties, Chile came within inches of securing the win when reserve forward Mauricio Pinilla banged a shot off the crossbar.
In the 55th minute of the second half, it was Brazil who believed, briefly, it had found a go-ahead score but referee Howard Webb disallowed a score from Hulk. Webb called Hulk for a handball as he brought a long, high pass from Marcelo under control in the Chile penalty area.
RESULTS! 79% think Howard Webb made the right decision & this was a handball from Hulk. You be the judge. WATCH »
http://t.co/0pQI9H3NRZ

— ESPN FC (@ESPNFC) June 28, 2014
That goal would have been a way for Hulk to make amends for a costly mistake in the first half. Chile, pressuring high up the field, turned a giveaway by Hulk into an equalizing goal in the 32nd minute.
Alexis levels the score at 1 with this tidy finish. WATCH » http://t.co/r2XzG3eckN #BRAvsCHI

— ESPN FC (@ESPNFC) June 28, 2014
Brazil grabbed the early 1-0 lead when the ball found it way past Chile goalkeeper Claudio Bravo following a corner kick. The goal was initially credited to Brazil defender David Luiz but may have been a Chile own goal.
Brazil roars out to a 1-0 lead thanks to this goal from the corner. Appears to be an own goal. WATCH » http://t.co/MNze2PWWOj #BRAvsCHI

— ESPN FC (@ESPNFC) June 28, 2014
BEFORE YOU GO
PHOTO GALLERY
PHOTOS: Brazil vs. Chile