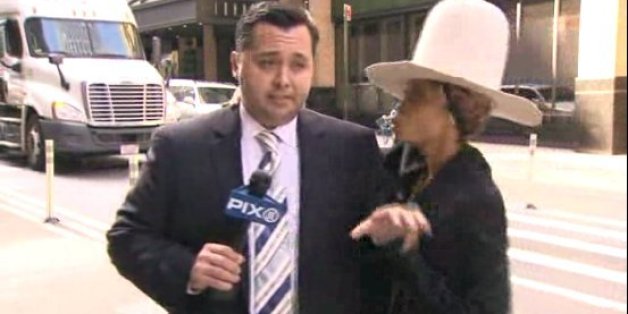 Erykah Badu is our new favorite prankster. The singer crashed a live TV news broadcast in a few fantastic ways. News anchor Mario Diaz was trying to report on Shia LaBeouf's arrest for New York's PIX 11, but was interrupted by Badu and her huge white hat. She made some lewd hand motions -- sex jokes! -- walked back and forth and tried to kiss Diaz. Like a true professional, he stiff-armed her and pushed her out of the frame.
Some people on Twitter thought the culprit looked like Badu, but she denied it at first. Luckily for the TV-watching world, the truth came out.
#Btw my wife and 2-year-old were 20 yards away when it happened... She saw the roll up, you putting on hat & everything.

— Mario Diaz (@MarioPIX11) June 28, 2014
Later, Diaz and PIX 11 acknowledged Badu and all was right in the TV anchor videobomb world. Check out the full video below.
BEFORE YOU GO
PHOTO GALLERY
Reporter Laughing Fits