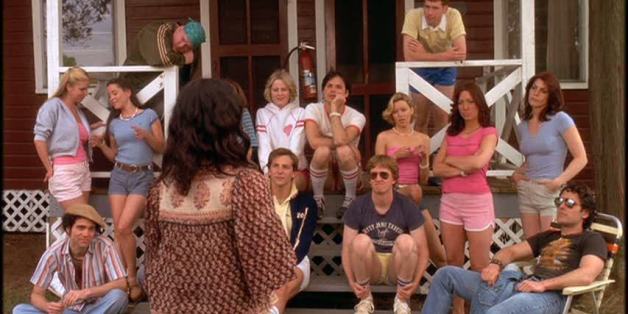 "Wet Hot American Summer"

"Wet Hot" is the perfect camp movie, whether you've been to camp or not. David Wain's brilliance is best immortalized in Christopher Meloni's relationship with the fridge, a trip into town gone awry and Elizabeth Banks' burger breath.
"The Parent Trap"

Pre-everything Lindsay Lohan is a dream. Dare we say the 1998 remake of "The Parent Trap" is better than the original 1961 version starring Hayley Mills? But the updated Disney film has so many good movie montages. There's that incredible bridal photoshoot, the classic camp prank war and a terrible hiking trip with the evil almost-stepmom. Plus, "The Parent Trap" taught all tweens two very important lessons: all you need to pierce your ear is a needle, an apple and an ice cube, and Oreos are best eaten with peanut butter.
"Do The Right Thing"

Spike Lee's seminal film is set in Bed-Stuy, Brooklyn on the hottest day of the year. "Do The Right Thing" was nominated for two Academy Awards, earned controversial but fantastic reviews and highlights racial tensions that are still relevant 25 years after the movie's release. Summer's never been so real.
"Camp"

Your artsy friend who went to Stagedoor Manor for one summer probably made you watch "Camp" at a sleepover. It's a feel-good movie about theatrical outsiders before "Glee" was even a thing. Plus, there's a straight-up insane Anna Kendrick cameo.
"Moonrise Kingdom"

Wes Anderson's symmetrical summer camp saga is all about precocious young love. "Moonrise Kingdom" has every necessary ingredient to make it an Anderson classic: Bill Murray, Tilda Swinton, a super nerdy protagonist and Roman Coppola credits.
"It Takes Two"

"It Takes Two" is prime Steve Guttenberg in the early '90s. Mary-Kate and Ashley Olsen star as "identical strangers" trying to set up one of the girl's wealthy father with the other's -- an orphan -- lovable caseworker, played by Kirstie Alley. The girls meet at summer camp and decide to get rid of terrible Clarice. It also features the best food fight in cinematic history. (Sorry, "Animal House.")
"Heavyweights"

Fat camp rules in "Heavyweights," where Ben Stiller is a terrifying exercise freak-turned-camp director. Things we love: A young Kenan Thompson and his buddies made "the blob" the ultimate lake toy, and Paul Feig plays a counselor who, in the off-season, lost a ton of weight and gets made fun of for being skinny.
"Dirty Dancing"

Botched abortions, water dancing, "No one puts baby in a corner," etc. "Dirty Dancing" is the classic I-hate-my-parents-on-this-summer-vacation film and Patrick Swayze is the only way to get through it all.
"Friday The 13th"

Sometimes, camp is full of murderers, or rather, one killer. The Camp Crystal Lake counselors just want to get it on, but instead they ignite a "death curse." Summer fun for the whole family.
"Indian Summer"

Eight adults head back to their summer home, Camp Tamakwa, and get thrown back into all the love, freedom and fun they felt 20 years before as campers. Alan Arkin plays camp director to some of 1993's finest stars: Elizabeth Perkins, Matt Craven, Diane Lane, Bill Paxton and Kimberly Williams-Paisley.
"Meatballs"

From Ivan Reitman and Harold Ramis, "Meatballs" launched Bill Murray's career as a movie star, and showed us just how ridiculous sleepaway camp can be. It's a classic '70s screwball comedy featuring girls girls girls, short shorts and dorky guys who triumph outside of the big city.
"Camp Nowhere"

When a group of kids create a fake summer camp staffed by Christopher Lloyd, viewers are treated with chaos and early-'90s hilarity. The tweens -- Jessica Alba's included! -- trick their parents into sending them away to what the adults think is camp, and even fix up a faux visiting day. It's basically every antisocial 13-year-old's dream come true.
"Adventureland"

Post-grad Jesse Eisenberg returns to work at the amusement park near his parents' house, falls in love with Kristen Stewart's character and screws around with Bill Hader and Martin Starr. The sweet, sad, tragicomedy makes you miss your hometown, but not enough to go back there for the summer.
"Dazed And Confused"

"All right, all right, all right." The first day of summer vacation is full of possibilities and hope, especially if Parker Posey is drenching you in condiments. Chock full of incredible one-liners, now-classic bong hits and young Matthew McConaughey, "Dazed And Confused" gets everything about leaving high school just right.
"Stand By Me"

The summer of 1959 will always be about "Stand By Me." Corey Feldman, Jerry O'Connell, Kiefer Sutherland, Wil Wheaton and River Phoenix star in the ultimate coming-of-age '80s film that launched its stars' careers -- some tragically doomed -- and became the template for hundreds of movies about teens.
"Jaws"

You may never get the "Jaws" theme song out of your head, but Steven Spielberg's classic tale of terror on the beach is a summer keeper. Shot mostly on Martha's Vineyard, the beautiful scenery is almost enough to distract you from the man-eating shark. Just kidding, this is "Jaws." You're never going swimming again.
"Addams Family Values"

Even Wednesday Addams had to go to camp. The "Addams Family" sequel follows the Addams kids as they get booted off to camp by accident. Obviously they don't mesh very well with the other campers and try to escape. Classic Addams mayhem -- like attempted murder -- ensues.
BEFORE YOU GO
PHOTO GALLERY
Bikini Beach Babes