In the wake of the U.S. Supreme Court's Hobby Lobby decision, we look back at previous polling -- and why it's not always consistent. Hillary Clinton gains with liberals even as her ratings come down to earth with other voters. And among Americans, neither the midterms nor the World Cup stir great interest. This is HuffPollster for Monday, June 30, 2014.
PRE-HOBBY LOBBY POLL FOUND SPLIT OPINIONS - Rachel Lienesch, on polling conducted earlier this month: "Just days before the expected announcement of the Supreme Court's ruling in Sebelius v. Hobby Lobby Stores, a new HuffPost/YouGov poll finds Americans are divided over whether to require owners of private businesses to pay for their employees' contraceptives….The HuffPost/YouGov poll finds that 44 percent of Americans side with Hobby Lobby, saying that private businesses whose owners object to birth control on religious grounds should not have to provide health care plans that cover the costs of birth control, while 40 percent feel that religious owners of for-profit businesses should have to cover the costs of contraceptives for employees. Americans are almost evenly split over whether hospitals and colleges with religious affiliations should have to provide health care plans that cover the cost of contraceptives for their employees, with 43 percent believing they should be required to and 42 percent saying they should not be." [HuffPost]
Results depend on how you ask - Aaron Blake: "The Supreme Court ruled Monday that "closely held" companies with religious owners cannot be required to provide their employees with birth control if they have religious objections to it. Do the American people agree? Well, no. And yes. Contraception is one of those issues on which you can get vastly different opinions from the American people just by asking the question in a slightly different way….It suggests that Americans' opinions on the topic are quite malleable and — by extension — pretty soft. If Americans can offer such different responses based on just a few words being changed in the question, they probably don't feel all that strongly about the issue or haven't really paid attention. That doesn't mean that there aren't people who feel very strongly. It just means they they are probably in the minority." [WashPost]
A refresher on other recent polling on the issue:
-Kaiser Family Foundation, in April: "In light of the recent Supreme Court hearings in two cases challenging the ACA's requirement that private health plans cover prescription birth control without cost-sharing, the latest Kaiser Health Tracking Poll finds that, in general, the public supports the requirement by a nearly 2-to-1 margin (61 percent support, 32 percent oppose)." [Kaiser]
-PRRI, in May: "A majority of Americans believe that most types of businesses—with the exception of churches and places of worship—should be required to provide their employees with health care plans that cover contraception at no cost. However, public sentiment varies significantly depending on the type of business." [PRRI]
-Reuters/Ipsos, in a two-month tracking poll: "A majority of Americans oppose letting employers, based on their religious views, exclude certain contraceptives from workers' insurance coverage, says a Reuters/Ipsos opinion poll ahead of a U.S. Supreme Court decision expected on Monday." [Reuters]
DECISIONS CAN ALSO AFFECT THE SUPREME COURT - Pew Research's Alec Tyson: "Do Supreme Court decisions register w/public? Rep views dropped 18 pts after 2012 ACA ruling" [Pew Research via @alec_h_tyson]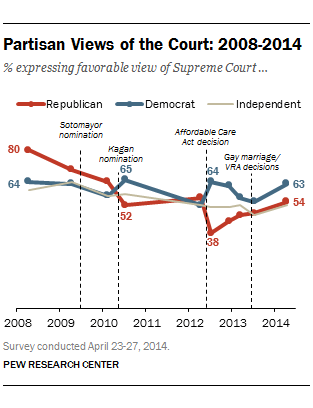 Confidence in Court at a record low earlier in June - Justin McCarthy: "Americans' confidence in all three branches of the U.S. government has fallen, reaching record lows for the Supreme Court (30%) and Congress (7%), and a six-year low for the presidency (29%). The presidency had the largest drop of the three branches this year, down seven percentage points from its previous rating of 36%. These data come from a June 5-8 Gallup poll asking Americans about their confidence in 16 U.S. institutions -- within government, business, and society -- that they either read about or interact with. While Gallup recently reported a historically low rating of Congress, Americans have always had less confidence in Congress than in the other two branches of government. The Supreme Court and the presidency have alternated being the most trusted branch of government since 1991, the first year Gallup began asking regularly about all three branches." [Gallup]
HILLARY WINS OVER 'THE SKEPTICAL LEFT'... - Noam Scheiber: "Amid Clinton's miscues while promoting her new book, widely seen as a test-launch for 2016, the media has been quick to revive memories of 2008...There is maybe some truth to those claims, but when you look at the polls, Democrats are more enthusiastic about Hillary Clinton than ever. Her favorability rating within the party stood at 90 percent in the latest Gallup poll, versus 81 percent this time eight years ago. A Wall Street Journal survey of Democrats during the book tour found that their opinion of Clinton has vastly improved since late 2007. Many more Democrats now consider her knowledgeable (88 percent versus 76 percent), compassionate (80 versus 69), easygoing and likeable (67 versus 49), aligned with them on the issues (76 versus 61), and honest and straightforward (75 versus 53)...She consistently performs better among liberals than among moderate and conservative Democrats, though it was the former who deserted her six years ago. A recent CNN poll found that only 11 percent of Democrats prefer a candidate who is more liberal. Put it all together—the numbers, the enthusiasm, the unlikely converts—and it's a striking turnaround for a candidate who, when her opponent famously proclaimed her 'likeable enough' in 2008, discovered that less than half her party agreed." [New Republic]
...But sees her overall popularity decline - Brendan Nyhan: "But Ms. Clinton's re-entry on the political stage over the last few weeks is turning her back into what she was before her stint as Secretary of State: an intensely polarizing political figure. Politico's most recent poll, conducted in June amid the initial publicity for her book "Hard Choices," found that her favorability ratings have already dropped by 20 points since 2012 among Republicans. A recent NBC/Wall Street Journal poll found that her ratings, which were 48 percent positive and 32 percent negative in April, are now down to 44 percent positive, 37 percent negative....Ms. Clinton was due for a fall — her previously impressive poll numbers were an artifact of serving as Secretary of State, which kept her largely out of domestic politics. During her tenure as the nation's chief diplomat, Republicans for the most part refrained from criticizing her (at least before the attack on the United States mission in Benghazi, Libya). As a result, the flow of negative information about her to the public largely stopped. In those circumstances, politicians' images almost invariably improve. (Remember President Bush after the 9/11 attacks?) Now that Republicans are on the offensive, people are being reminded of what they didn't like about Ms. Clinton, moving her poll numbers back toward their previous levels." [NY Times]
AMERICANS EQUALLY UNINTERESTED IN MIDTERMS, WORLD CUP - Pew Research: "So far, the growing crisis in Iraq has not drawn strong interest from the American public. As Sunni militants extend their control of large swaths of Iraq, 25% say they are paying very close attention to the growing violence and political instability in Iraq. By comparison, 28% of Americans surveyed June 26-29 say they followed news about problems with care at veterans' hospitals very closely and 21% paid very close attention to news about the IRS losing employee emails…. fewer Americans tracked news about the World Cup soccer tournament in Brazil (17%), the 2014 midterms (16%) and recent Supreme Court rulings (15%)."
[Pew]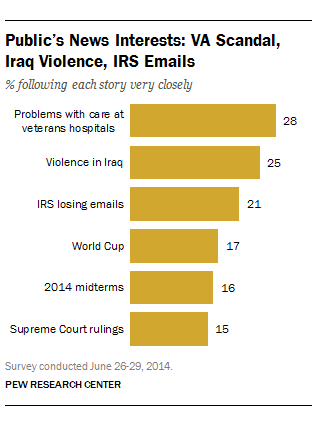 HUFFPOLLSTER VIA EMAIL! - You can receive this daily update every weekday via email! Just click here, enter your email address, and and click "sign up." That's all there is to it (and you can unsubscribe anytime).
MONDAY'S 'OUTLIERS' - Links to the best of news at the intersection of polling, politics and political data:
-Chism Strategies (D) releases a post-election poll of Mississippi Republicans. [Chism]
-Chris Christie's New Jersey job ratings remain stable. [Monmouth]
-Fifty-three percent of Americans support the arrest of an elderly accused Auschwitz guard. [YouGov]
-Incumbents: 291, challengers: 2. [HuffPost]
-Matthew Dickinson says the downward trajectory on President Obama's approval ratings reflects the rhythm associated with a president's time in office. [Presidential Power]
-The Pew Research typology report highlights the issues where each party's base is most out of touch with the public. [HuffPost]
-Greenberg Quinlan Rosner (D) launches GQR Canada. [GQRR]
-Fox television stations poised to drop Nielsen ratings for Rentrak. [Media Post via @alexlundry]
BEFORE YOU GO
PHOTO GALLERY
Supreme Court Hobby Lobby Decision