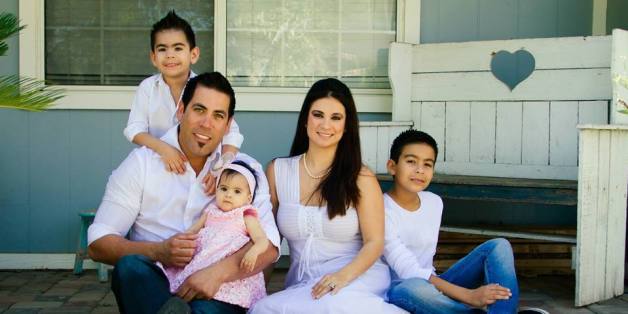 A family that spent weeks locked in a public dispute with a nanny who abruptly stopped working and refused to move out of their home now says the caregiver will leave if the weather cooperates.
The Bracamonte family will have their Southern California home to themselves again beginning July 4, if their nemesis and ex-nanny Diane Stretton says the temperature isn't too hot. Then, it will take Stretton three days to fully vacate the premises, Marcella Bracamonte told Fox News.
Stretton maintains that an illness prevented her from working and is suing the family.
The squabble started soon after Marcella and her husband, Ralph Bracamonte, hired the 64-year-old Stetton in March, to look after their three children. In exchange for childcare, Stretton received free room and board
After a few weeks of exemplary work, the Bracamontes say Stretton stopped performing her duties due to alleged medical problems, according to USA Today. She only left her bedroom for meals, Ralph Bracamonte told KTLA.
Diane Stretton, the nemesis of the Bracamonte family.
Stretton allegedly told Marcella Bracamonte that chronic obstructive pulmonary disease prevented her from working.
The family claims Stretton didn't mention any health problems when they hired her and say they gave her repeated warnings to shape up before firing her. They had also reduced her chores around their Upland home in San Bernadino County, according to Fox News.
Nevertheless, a tangle of legal issues made it tough for the Bracamonte family to rid themselves of Stretton's presence.
Police didn't intervene because Stretton had established residency, according to ABC News, meaning the family had to get an eviction to force her removal.
Stretton threatened to sue the family for elder abuse, breach of contract and wrongful termination. A judge ultimately sided with Stretton, saying the family didn't properly fire her.
To coax Stretton to leave, the family cut off her cable and Internet and put a lock on the refrigerator. However, she didn't budge.
The tiff first unfolded online where Marcella Bracamonte posted updates about the saga on Facebook. Posts included requests for people to bring her groceries so she didn't have to interact with the news media and calls for landlords' rights.
"What do I hope comes out of all of this???? I want to push for a law that protects families in their home. If there are no lease or rental agreement then whoever you invite in your home for a period of time does not make them a resident!," she wrote on June 28. "HOMEOWNERS MUST TAKE PRECEDENCE FIRST AND FOREMOST IN THEIR HOME OF OCCUPANCY! Whoever thought one could be victimized in their own home!?!"
Marcella Bracamonte said she recently learned that Stretton had been homeless for nine years, according to Fox News.
The Bracamontes met Stretton via a Craigslist ad they placed for a nanny. They told KTLA that she passed a background check.
Stretton's name appears on California's vexatious litigation list, a tally of individuals who file baseless lawsuits aimed largely at harassing opponents. She's filed more than three dozen lawsuits, including complaints against her sisters and son.
Like Us On Facebook |

Follow Us On Twitter |

Contact The Author
BEFORE YOU GO