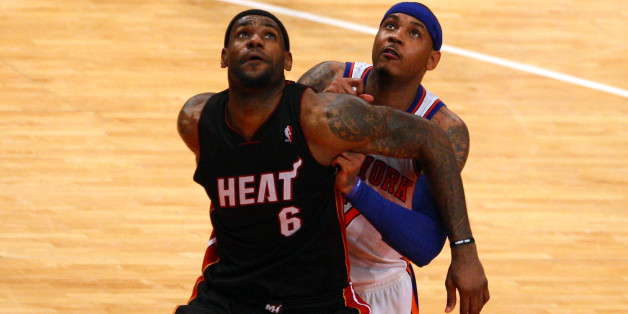 The NBA offseason arrived with a flurry of perfectly manicured -- and not so perfectly manicured -- draft night suits in what was perhaps the most anticipated draft crop to enter the league since the one containing two guys, LeBron James and Carmelo Anthony, way back in 2003. All they've done since is combine for 17 All-Star teams and play for two different franchises each. LeBron has amassed four MVPs and two rings, while Carmelo has a scoring title to his name but has advanced out of the first round just two times in his career. James is 29 years old, Anthony is 30 and both want to win, perhaps now more than ever.
Let's take a look at the best fits for the two free agents, both of whom have recently opted out of their contracts.
LeBron James
Miami Heat
Under the halo of team president Pat Riley, James has achieved tremendous success with the Heat, making it to four consecutive Finals while becoming the undisputed best player on the planet. With the news of Dwyane Wade and Chris Bosh also opting out, along with veteran forward Udonis Haslem, the Heat have an NBA-record $55 million in salary cap room. That means that Riley could go after Luol Deng, or feasibly sign Toronto Raptors point guard Kyle Lowry, whom the team has been rumored to like, or even pursue a talented young forward like Houston Rockets restricted free agent Chandler Parsons. Riley, in a typically shrewd move, acquired former Connecticut point guard Shabazz Napier (the 24th pick) from Charlotte on draft night, a guy LeBron deemed as his favorite player in the entire draft. If James wants max money from the Heat (five years, $130 million), as a recent report noted, Riley is seemingly setting himself up quite nicely. For James, who met with six teams during the summer of 2010, going elsewhere would mean taking a significant pay cut, up to $38 million. Staying with the Heat might just be the best long-term solution for LeBron's legacy and for his wallet.
Chicago Bulls The Bulls can potentially offer an elite point guard in Derrick Rose (above), depending on his return. They can also offer one of the game's most respected coaches in Tom Thibodeau and a premier center in Joakim Noah. Acquiring James would be tricky for the Bulls to pull off -- they'd have to amnesty forward Carlos Boozer and trade a future first-round draft pick -- but Chicago represents a real opportunity to win both now and in the future.
Houston Rockets
You can never count out general manager Daryl Morey, who did the nearly impossible by acquiring two superstars before their prime in James Harden and Dwight Howard. Morey already dealt reserve center Omer Asik and would have to deal Jeremy Lin as well. James clearly loves the idea of a Big Three, and with him, Harden and Howard, it wouldn't be entirely dissimilar to the Miami format, with another elite perimeter scorer and an All-Star big man.
Carmelo Anthony
New York Knicks
Anthony's tenure in New York has yielded middling success, but to be fair, he's never been surrounded with a championship caliber roster, at least not the way James has in Miami. The Knicks now have a savant at the helm in 11-time world champion coach Phil Jackson (serving as team president), though it remains to be seen how much power disheveled owner James Dolan will afford him. Still, the Knicks, who will have cap room in 2015, can offer a staggering five-year deal worth $129 million while Jackson has been hard at work to repair a severed roster. In a busy 36-hour period last week, Jackson packed off salary albatrosses Raymond Felton and Tyson Chandler to Dallas, picked up a true pass-first lead guard in Jose Calderon and got the Knicks back into the draft to nab a gifted small forward in Cleanthony Early. And the news of Jackson's interest in Los Angeles Lakers free agent center Pau Gasol is highly intriguing because Gasol would give Anthony a wonderful big to run pick-and-roll with. The triangle offense would seemingly benefit Melo's skill set as well, requiring him to handle the ball a bit less. If Carmelo were to win a title under the bright lights of Madison Square Garden, he would cement his legacy, giving the Knicks their first championship in over four decades.
Chicago Bulls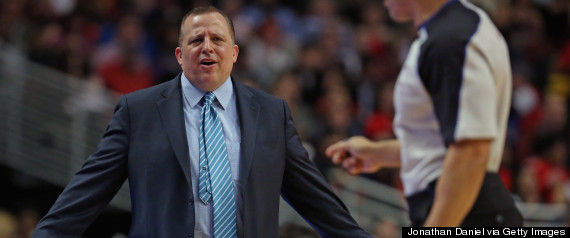 This may be the ideal fit for Anthony, and from what I'm hearing, this is where he's likely to end up. Thibodeau (above) would find a way to make him a better defender, while also hiding his deficiencies alongside Joakim Noah. Plus, Rose's dynamic playmaking ability would instantly take the pressure off of Anthony, and don't forget about scorer extraordinaire Doug McDermott, whom the Bulls acquired on draft night. Chicago has not been the same since dealing Luol Deng to Cleveland, and creating their own Big Three would make sense for Anthony. For this to happen, Anthony would have to take a pay cut, but then again, he would have to take a pay cut with Houston or Dallas as well.
Dallas Mavericks
We can expect Dirk Nowitzki to take less money and give owner Mark Cuban more cap space. And yet, Cuban says his team will not be offering a max deal this summer. Melo and Dirk both need the ball to be effective, and this move seems unlikely, but it is certainly a possibility. The Mavs, who have about $26 million in cap room, offer a decent chance to win, but the long-term upside for Anthony simply isn't there.
Houston Rockets
Houston offers Howard and Harden and no state income tax (like Dallas), but the rugged Western Conference is full of minefields (also like Dallas, actually). Morey, the Rockets' GM, has been rumored to have a deal lined up for Lin, but the Rockets are a terrific offensive team already, ranking first in the league in scoring. How badly does Anthony want to win and how badly does he want to score 25-plus a night?
Email me at jordan.schultz@huffingtonpost.com or ask me questions about anything sports-related at @Schultz_Report and follow me on Instagram @Schultz_Report. Also, be sure to catch my NBC Sports Radio show "Kup and Schultz," which airs Sunday mornings from 9 to 12 EST, right here.