Softball practice, cool field trips and excited kids: These seem like the ingredients to any typical summer camp. But this inspiring softball camp is anything but typical. 
Every year, 20 kids from across the country are selected to participate in the week-long Wounded Warrior Amputee Softball Team's Kids Camp in Louisville, Kentucky, which gives kids with amputations a chance to play softball, according to NBC News. The kids are coached by members of the Wounded Warrior Amputee Softball Team, military members who have lost limbs themselves. They aim to impart their inspiring motto, "Life Without a Limb is Limitless," onto the eager campers.
The children practice for a week and also attend field trips to places such as the Louisville Slugger factory, according to NBC. At the end of the week, they play a softball game against other children at the legendary Slugger Field.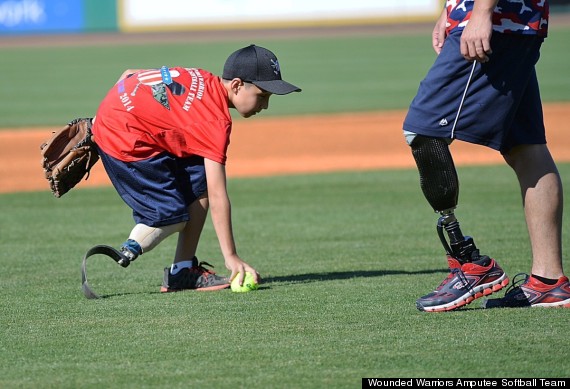 While learning how to play softball at the camp, kids share their experiences with other amputee children and learn from their mentors. "It's tough for children," David Van Sleet, founder of the Wounded Warrior Amputee Softball Team told The Courier-Journal. "They go to school, and they're amputees, and they're singled out. You know, a lot of times they have embarrassing moments, stuff like that. And they're usually isolated. So when they get into an environment like this … they feel so much better that they're not the only one."
Susan Rodio, a volunteer with the Wounded Warrior Softball Team founded the camp a year ago after observing the positive interactions between players and the amputee bat boys and girls they would invite to their games, NBC reported. The organization says the military mentors show the young athletes that physical challenges shouldn't limit their perspective on what they can achieve.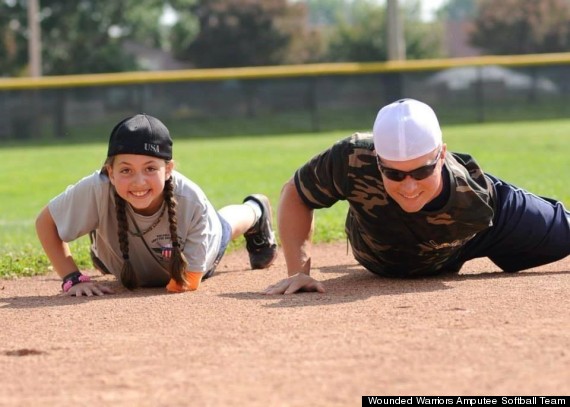 Though the kids learn a great deal from the players, they are not the only ones taking away a lesson. The veterans say they are motivated by the spirit and optimism the kids have.
"They make us look like wimps out here, because they're running around and jumping around," Rick Will, one of the camp's coaches told the Courier-Journal. "How can we talk about being hurt when these kids have so much passion and so much drive?"
For more pictures of the Wounded Warriors Amputee Softball Team Kids Camp, see below:
PHOTO GALLERY
Summer camp gives amputee children a chance to play softball