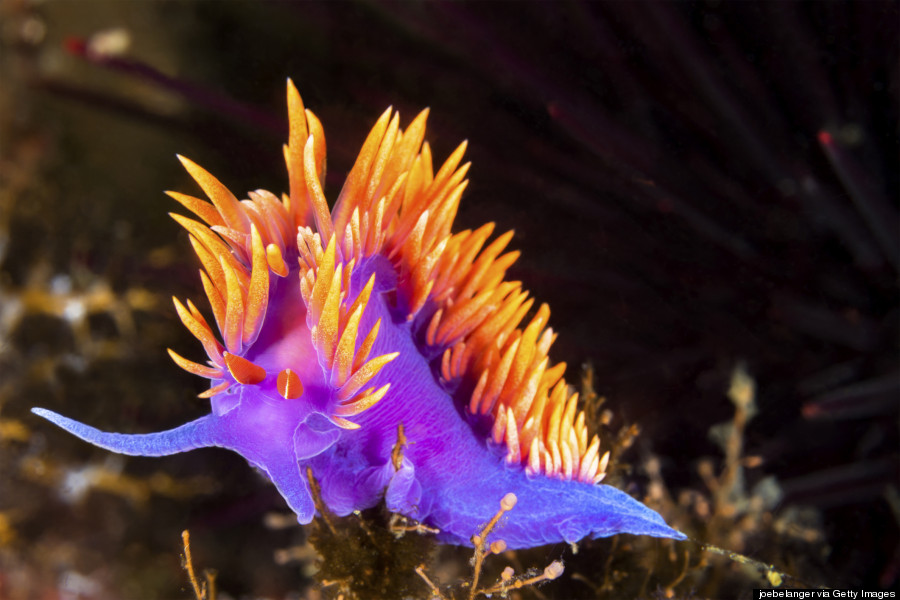 What are these strange creatures and where do they come from? These are nudibranchs (new-dih-bronx), tropical sea cousins of the slug, which can most commonly be found crawling along the bottom levels of the shallow seas. These mollusks shed their shells and reveal their vibrant skins when they become slug-teenagers, which, according to National Geographic, gives cause for their name. When translated from its Latin and Greek roots, "nudibranch" literally translates to "naked gills."
In the dangerous ocean full of predators with sharp teeth, what's to protect a squishy, naked slug? Nudibranchs use their bright patterns to their advantage. In their profile of nudibranchs, National Geographic says that a nudibranch's high-color, high-contrast skin can actually be an effective camouflage among other colorful sea life, or mislead potential predators into thinking the nudibranch is poisonous. While this deception can be a powerful defense, the South Carolina Department of Natural Resources says nudibranchs are also gifted adapters, incorporating the defenses of their prey into their own defenses, and colors from their food into their own coloration. All of what they absorb is repurposed and pushed into their backs. For instance, a nudibranch can eat a jellyfish and digest all of its parts besides the stingers, and then push them through its back to sting predators.
Tropical ocean environments are extremely delicate, and rising carbon dioxide levels will inevitably damage them. When carbon dioxide levels go up, the acidity of the ocean increases, which can dissolve the calcium shells of the nudibranch larvae and kill them. With fewer nudibranchs eating algae within the ecosystem, algae may bloom on a massive scale and block sunlight from reaching coral reefs and kill the marine plants and animals that live within them, according to the BBC. Since nudibranchs are so sensitive to changing conditions, ecologists monitor these beautiful creatures to keep tabs on the health of an ecosystem, and use that data to plan conservation efforts.