With a landslide election victory and the cooperation of an increasingly progressive City Council, New York City Mayor Bill de Blasio -- the first Democrat to serve as mayor in 20 years -- seemed certain to fulfill his promise to usher in a new era of liberal politics.
But even with such advantages, challenges arose, particularly in his dealings with the press, the issue of charter schools, and the state government in Albany. While New Yorkers overall approve of de Blasio's performance in his first six months, his 51 percent favorability rating is a far cry from the "mandate" he won from voters last fall. Opinions also remain divided along racial lines, with blacks, who voted overwhelmingly for de Blasio's election, approving of the job he's doing and whites remaining split
Here's a look at key milestones, including accomplishments and setbacks, from the first six months of de Blasio's administration.
1. Universal Pre-Kindergarten
Establishing universal pre-K was a hallmark campaign pledge for de Blasio -- an expansion he said could be achieved by raising taxes on New York's wealthiest residents. Raising taxes during an election year, however, did not sit well with Gov. Andrew Cuomo (D), who insisted de Blasio's signature initiative could work without a tax increase. The two engaged in a rather public and awkward battle over funding, with Cuomo appearing to block the new mayor's every move. A deal was eventually brokered that did not raise taxes, and left de Blasio $40 million short of the amount he originally wanted. Democratic frenemies.
The city is now training hundreds of new pre-K teachers to be ready for the upcoming fall. Officials are aiming to have 53,000 spots in full-day pre-K programs by September, with a goal of an additional 20,000 available by the fall of 2015. New York City currently has 20,000 seats in pre-K programs.
2. Animal Rights
After winning the endorsement of animal rights activists last year, de Blasio vowed to shutter the city's controversial carriage horse industry immediately upon taking office. But a "pissed off" Liam Neeson had other ideas. The actor's pro-carriage stance quickly cemented his role as the industry's most visible unofficial spokesman, complete with an impassioned editorial in The New York Times and a short film titled "Save the NYC Carriage Horses." The ensuing media attention ultimately delayed de Blasio's plans, with those on both sides of the debate refusing to budge. If anything, de Blasio appears to be losing the fight, with 66 percent of New Yorkers hoping to see him scrap the proposed ban altogether.
Perhaps reaching for smaller victories, de Blasio is now working to lift a ban preventing New Yorkers from owning ferrets, a law that was zealously enforced by ferret-hating former Mayor Rudy Giuliani, who believed ferrets to be dangerous creatures unfit for urban dwelling. But according to a recent poll, most New Yorkers don't particularly care for the ferret ban to be lifted. Anyone who has yet to experience Giuliani's infamous ferret "rant" should listen to it below.
3. NYPD Reform
Under former Mayor Michael Bloomberg, the use of stop and frisk, in which police question pedestrians and search them for weapons or contraband, reached alarming levels -- there were 685,724 stops in 2011 alone. The program, widely condemned by civil rights advocates for unfairly targeting blacks and Latinos, played a central role in the 2013 election. De Blasio's decision to feature his son, Dante, in a campaign video mentioning stop and frisk is what pundits say cemented his status as frontrunner in the mayoral race. Since taking office, de Blasio has followed through on many of his key promises, such as abandoning the Bloomberg administration's fight against a judge's ruling that limited stop and frisk and appointing the NYPD's first inspector general.
Dante's now-iconic video
De Blasio's decision to bring back William Bratton as NYPD commissioner, however, raised eyebrows with civil liberties groups, who view Bratton as the chief architect and defender of stop-and-frisk tactics. Less than a month into his appointment, Bratton, who led the NYPD from 1994 to 1996 under the Giuliani administration, declared the issue "solved."
When it comes to NYPD surveillance tactics -- de Blasio and Bratton recently announced that one surveillance program had been ended for good -- the mayor's stance remains murky. Soon after the announcement, The New York Times revealed jailed Muslims are routinely recruited to work as NYPD informants, raising concerns of coercion and intimidation. When asked about the report, de Blasio said he would reserve judgment until he had more information on the program.
In addition, the mayor has yet to appoint a chair for the NYPD civilian complaints board.
4. Pedestrian Safety
De Blasio's "Vision Zero" is an ambitious initiative to eliminate traffic fatalities in New York City. The far-reaching plan is modeled after one in Sweden and includes amping up police enforcement at high-traffic intersections and reducing speed limits. The City Council has been emphatically supportive of the plan's major legislation, and the state legislature has approved a bill lowering the city's default speed limit to 25 mph.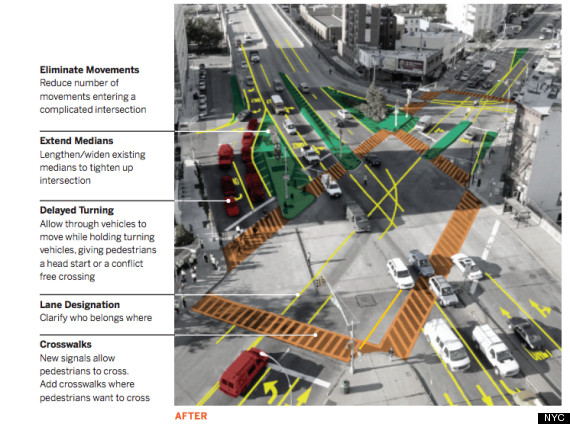 A preview of Vision Zero.
5. Affordable Housing
De Blasio's promise to increase affordable housing is one of the highest-profile endeavors of his progressive agenda, integral to reducing income inequality in the city. This chart shows how the average cost of rent far outpaces the income of the average New Yorker.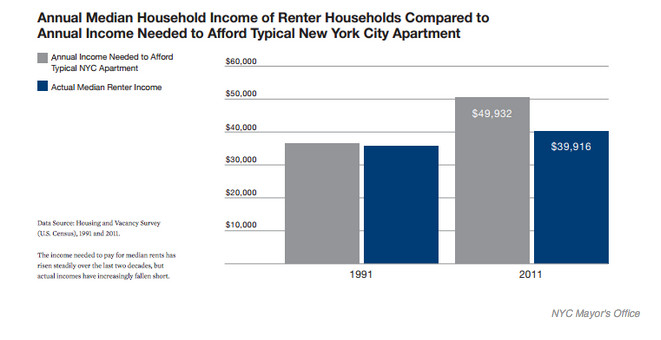 In May, the mayor unveiled a $41 billion plan to seek public, private, city and state funds to build and preserve 200,000 affordable housing units. A key part of his proposal will make it mandatory for developers to incorporate inclusionary housing, which was a voluntary option under Bloomberg. De Blasio's plan also will give homeless families priority in obtaining public housing. Some critics have stopped short of applauding the ambitious proposal however, saying the plan lacks details. And several city council members are calling de Blasio's plan to allocate 750 units for the homeless to transition into public housing "too timid."
Of course, it's far too early to determine if the plan will succeed, considering major details are still in flux. But de Blasio offered a significant glimpse of how his administration will tackle large housing proposals when the city brokered a deal to set aside 700 affordable housing units in the redevelopment of a Domino Sugar Factory in Brooklyn, a major victory for the mayor.
6. Transparency
While de Blasio insists he values transparency, the mayor has been accused of barring the press from dozens of public events -- a pattern that started at his swearing-in, when he attempted to conduct a closed ceremony. The apparent contradiction has prompted de Blasio to admit his administration must begin doing a "better job," but administration officials said most instances of blocked access are due to logistical concerns, including space limitations. Furthermore, aides say the mayor has the right to conduct private meetings.
De Blasio's call for a more transparent government was muddled further after it was revealed he had made a phone call to police officials inquiring about a supporter who had been jailed. The phone call promptly saved Bishop Orlando Findlayter, who had been arrested on a warrant stemming from charges at a previous rally, from a night behind bars.
De Blasio has hired a number of new staffers for his communications team to help mend his public image and improve media relations --- two areas that have proven troublesome since the mayor took office. His cringeworthy affinity for dad jokes hasn't helped, either.
Dad Joke #1
Opening a massive new office in New York City for engineering talent? @facebook knows #whatsapp.

— Bill de Blasio (@BilldeBlasio) February 26, 2014
Dad Joke #2
7. Marijuana
De Blasio promised during his campaign to reduce the number of low-level marijuana arrests, but critics say police have continued arresting pot offenders as often as they did during the Bloomberg administration. In fact, the number of low-level pot arrests made during the first three months of 2014 exceeded the number made in the last two three-month periods of 2013. Neither de Blasio nor his police commissioner support decriminalizing pot, but the mayor has said he thinks police should be focused on bigger crimes.
Rep. Hakeem Jeffries (D-N.Y.) recently called on the mayor to follow through on his campaign pledge to reduce arrests for minor marijuana offenses. "The new administration promised change, but instead we got more of the same," Jeffries said at a press conference.
8. Charter Schools
De Blasio engaged his new administration in a high-profile battle when he challenged the rise of charter schools by ordering a halt to three expansions in February. The announcement drew the quick ire of charter advocates, including Success Academy network founder and CEO Eva Moskowitz, who retaliated with a $3.6 million media campaign against de Blasio's policies. The city's move to deny public space to Success Academies was complicated by Cuomo, who appeared to double down on his support of charters just as de Blasio started to feel the heat of Moskowitz's campaign. Ultimately, the mayor toned down his rhetoric.
Christopher Mathias contributed reporting.
BEFORE YOU GO
PHOTO GALLERY
Mayors Of America's Largest Cities