The Wizarding World of Harry Potter is about to get a little bigger. And while Diagon Alley, the park's new addition, won't open until July 8, perhaps some fun facts will tide you over until then.
First, some basics. Harry's world spans two parks: Universal Studios Florida and Islands of Adventure. Hogsmeade and the Hogwarts castle, which opened in 2010, are located in Islands of Adventure. Diagon Alley and London will be located in Universal Studios Florida. Here's a little preview:
1. You can now RIDE the Hogwarts Express. If you visited the Hogsmeade section of The Wizarding World of Harry Potter, you probably stopped for a photograph with the Hogwarts Express and its conductor. However, when the new park opens, you will be able to actually ride the iconic train from King's Cross Station in "London" to Hogsmeade.
2. The theme park is basically a carbon copy of film sets. Universal consulted J.K. Rowling and the film's production designers during the design process, so each and every detail is picture perfect, as Robert Niles, editor of themeparkinsider.com, told CNN.
3. You'll get to hang with animatronic goblins at Gringotts. The bank is part of the Park's headliner ride, Harry Potter and the Escape from Gringotts. Be advised, goblins are not the friendliest of creatures.
4. Apparently, if you ring their bells, they look right at you. Creepy! 5. Want to buy some Pygmy Puffs? How about Skiving Snackboxes? Or some U-No-Poo? Weasleys' Wizard Wheezes sells them all!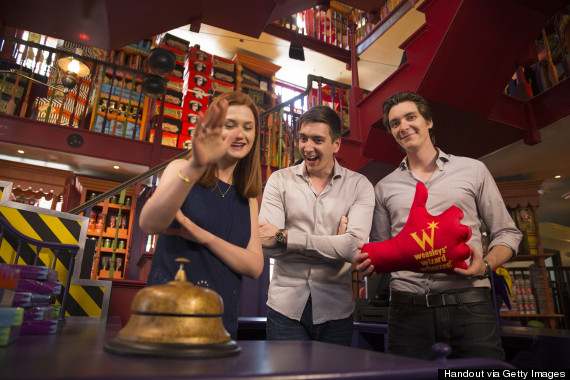 Unfortunately, George, Fred and Ginny won't be there to sell you their favorite gag gifts. The three-story shop is said to look identical to the one in "Harry Potter and the Half Blood Prince."
6. If hunger strikes you while wandering Diagon Alley, don't fret. The Leaky Cauldron awaits you. The pub serves up British fare and Butterbeer, of course.
7. And if the, ahem, "darker arts" are more your thing, head over to Knockturn Alley and check out Borgin and Burkes. And yes, that creepy "Hand of Glory" from "Harry Potter and the Chamber of Secrets" is allegedly on display.
8. There are now two Ollivanders Wand Shops -- one in Hogsmeade and one at Diagon Alley. So you can double up on all your wand-related needs.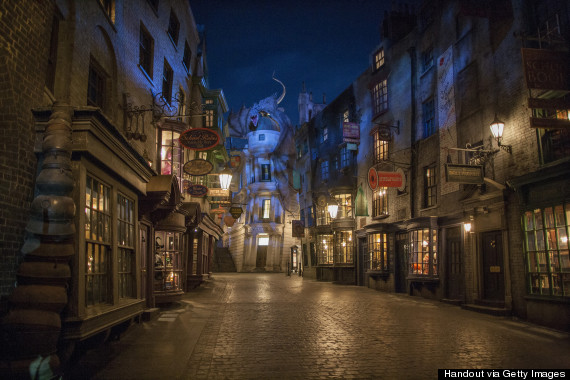 Get your hands on an interactive wand and make some magic.
9. There is a fire-breathing dragon atop Gringotts. According to Buzzfeed, the dragon breathes its fiery breath approximately every 15 minutes.
10. It's totally and completely magical. What else would you expect?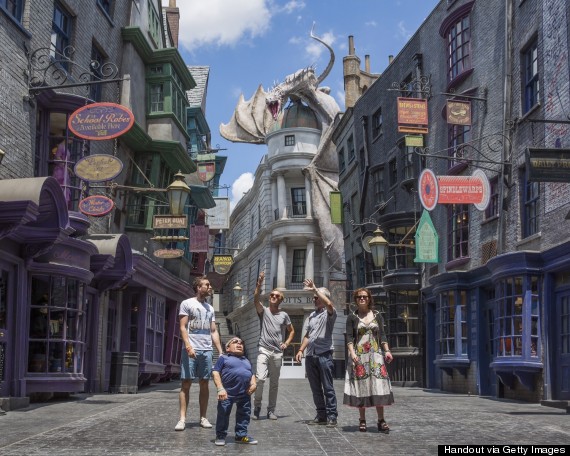 (Your favorite film stars agree!)
BEFORE YOU GO
PHOTO GALLERY
Wonderful World Of Wizarding Harry Potter Diagon Alley