As a homeless mom, Karen Penley likely hasn't had it too easy. Now she says a big obstacle is preventing her from fulfilling her baby's most basic needs.
The Hawaii mom prefers breastfeeding to keep her child nourished, but that may not be an option at her shelter. According to HawaiiNewsNow, when she tried to nurse her son in the Oahu homeless shelter Institute For Human Services, a worker reportedly told her to either cover herself or relocate.
Penley described the exchange to the news network: "He's like, 'You must cover to nurse your baby.' And I was like, 'I have the right not to cover.' And he goes, 'I have the right to refuse services.' In other words…kick me out, make me leave."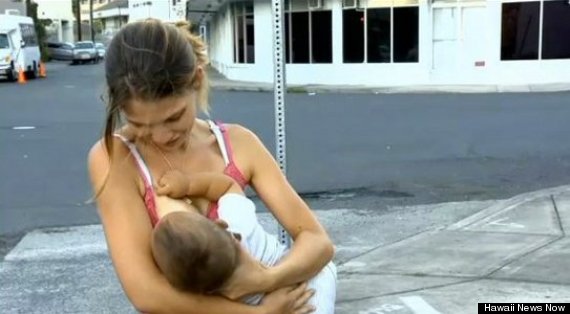 While the Executive Director at IHS insists no one threatened to kick Penley out of the shelter and claims that she was even offered an air conditioned space to breastfeed her baby, the mom says otherwise. "The air condition is actually broken. It's super small," Penley stated. "I'm claustrophobic so I don't like being in small areas," she added.
In response to the story, The Stir's Nicole Fabian-Weber poses an important reminder. "Regardless of who's being completely truthful here, can we all agree on one thing: Respect to this mama for breastfeeding her baby even under the most difficult of circumstances. Yes, it's free, but as anyone who's ever nursed can tell you -- breastfeeding isn't a walk in the park," she wrote.
Penley, too, has a message she wants heard. "I want all breastfeeding moms to know they're not doing anything wrong. We shouldn't have to cover because we're not being perverts. We're feeding our children and our children deserve it."