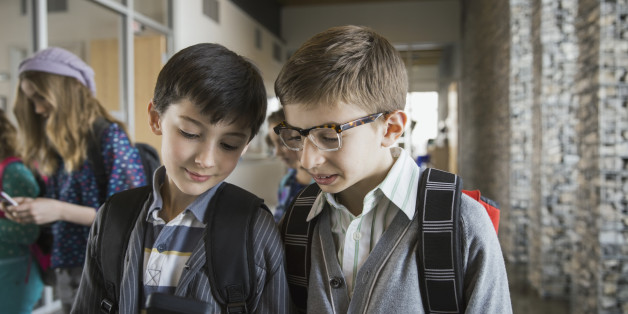 Middle school students who send hundreds of text messages a day are also engaging in more IRL sex than their disconnected peers, according to a new study.
Researchers from the University of Southern California outlined the correlation between middle school students' texting and sexual habits. According to the study's co-authors, students who text a lot are more likely to have reported engaging in sexual activity; those who have received sexts, which are defined as sexually explicit text messages or photos, are also more likely to have reported having sex.
The study's findings were based on a survey of more than 1,300 anonymous Los Angeles middle school students, who ranged from ages 10 – 15.
"Our results show that excessive, unlimited or unmonitored texting seems to enable sexting," lead study author and assistant professor at the USC School of Social Work Eric Rice said in a written statement. "Parents may wish to openly monitor their young teen's cell phone, check in with them about who they are communicating with, and perhaps restrict their number of texts allowed per month."
The study also found that students who identified as lesbian, gay, bisexual, transgender or queer were more likely to have sent sexts, although they were not more likely to be sexually active. Students who texted more than 100 times a day were 4.5 times more likely to have sent sexts, and sexting recipients were six times more likely to have reported having sex. In addition, 20 percent of those who had the ability to text on their cell phones had at some point received a sext.
At the same time, the study acknowledges that the data was self-reported and may contain a social desirability bias, and that these teens represent a group from only one specific geographic area.
In response to the study, Justin Patchin, co-director of the Cyberbullying Research Center told U.S. News and World Report that middle school students may have limited information about the consequences of sexting.
"It is possible that middle school students … aren't necessarily getting that information as widely as the high school students, or don't fully acknowledge or understand the potential long-term risks," Patchin told the outlet. "The biggest concern is if sexting images are distributed beyond their original target."
U.S. News notes also that as of December 2013, 17 states had laws regarding sexting for minors.
The USC research was published in the journal of Pediatrics this week.
BEFORE YOU GO
PHOTO GALLERY
The Most Popular Books For American Students